---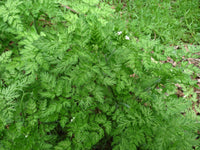 Always Free Shipping!!
Item specifics
Seller Notes: Germination test date and results will be on packet.
Country/Region of Manufacture: United States Climate: Cold, Sub-tropical, Temperate
Brand: zellajake
Chervil is easy to grow from seed, but it requires cool, moist conditions. In hot weather or dry soil, the plants will bolt (flower and set seed) rather than produce lush leaves for harvest. For that reason, aim to grow chervil during the coolest part of your growing season. Also, a semi-shaded location, such as tucked between other plants, can help shield chervil from the heat of midsummer sun. Chervil prefers a light soil that retains moisture, so be sure to work in plenty of compost.
In Zone 6 and north, plant chervil in early spring for harvest into summer. In Zones 7 and south, plant it in late summer to early fall for harvest throughout winter and spring. Although chervil is quite hardy, it will need some protection—such as a row cover—when temperatures drop below freezing in fall. Or, simply plant chervil directly in a cold frame in the fall for harvest throughout the winter.
Chervil is an intriguing herb. Many do not appreciate its unique scent and taste, but every herbalist and gourmet should grow it at least once. Try chervil this year—you'll be charmed by its dainty appearance and delicate flavor.
Terms and conditions, READ THIS PLEASE: Orders over $9 from this ad will be shipped with tracking, Otherwise: Seeds will be shipped economy/standard or first class 2-10 day shipping (NO TRACKING and no planting instructions to keep seed costs to the buyer low), in a ziplock baggie. Our goal is to save you money on quality seeds. We are responsible sellers, and we make sure our buyers are well taken care of. Shipped within 2 business days after payment. We are a seller that caters to experienced gardeners, or those that are capable of looking up instructions independently (germination and plant care information is readily available online, but if you can't find germinating and care instructions, please feel free to message us). We do not include growing instructions. Multiple orders of a single item will be combined into 1 ziplock. We are not responsible for buyer germination success, seeds have been tested. Seed count is approximate, and packaged by weight. Seeds vary in size, weight is exact, and based upon empirical count, and quantity is estimated. Liability of seller is limited to the cost of the item (s).