---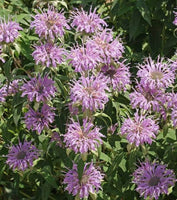 Always Free Shipping!!
Item specifics
Seller Notes: "Packaged 09/2016, germination untested."
Climate: Sub-tropical, Temperate
Brand: zellajake
Country/Region of Manufacture: United States
Monarda fistulosa, commonly called Wild Bergamot, Bee Balm or Horse-Mint, has a lovely violet blossom and distinctively aromatic foliage. It is a familiar component of prairie and savanna communities on all but the wettest of soils. Native to most of North America, it often is cited for its historical medicinal applications among indigenous people. These include poultices for boils and lacerations, as well as tea infusions for headaches, indigestion and colds and flu. Wild Bergamot provides the characteristic aroma of Earl Grey tea and is a favorite of butterflies, bees and hummingbirds. Its species name, fistulosa, refers to the tube-like structure of its blossoms, which appear from July through September, nicely complementing nearby yellow composite flowers.
Plant the seeds or seedlings in spring. Sow seeds shallowly and cover lightly in a seed raising tray. Add a source of heat beneath the tray. When seedlings grow, transfer to the garden spot after hardening off. For a root cutting, transplant directly.
Terms and conditions, READ THIS PLEASE: Orders over $14 from this ad will be shipped with tracking, Otherwise: Seeds will be shipped economy/standard or first class 2-10 day shipping (NO TRACKING and no planting instructions to keep seed costs to the buyer low), in a ziplock baggie. Our goal is to save you money on quality seeds. We are responsible sellers, and we make sure our buyers are well taken care of. Shipped within 2 business days after payment. We are a seller that caters to experienced gardeners. (germination and plant care information is readily available online, but if you can't find germinating and care instructions, please feel free to message us). Most of our listings include germination instructions, so we do not ship growing instructions. Multiple orders of a single item will be combined into 1 ziplock. We are not responsible for buyer germination success, seeds have been tested. Seed count is approximate, and packaged by weight. Seeds vary in size, weight is exact, and based upon empirical count, quantity is estimated. Liability of seller is limited to the cost of the item(s).
Zellajake Farm and Garden: "Seeds for all your planting needs" since 2013