---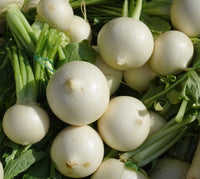 Always free Shipping!
Germination test date and results will be on packet.
A classic, great tasting heirloom turnip!
Boston seedsman John B. Russell sold seed in 1828 for a turnip called Swan's Egg, which appears to be the immediate predecessor of White Egg. In fact, based on old descriptions, the two are essentially the same. It is a fall variety that remained popular throughout the nineteenth century because of its keeping qualities. True to its name, the turnip is both egg shaped and white, generally about the size of a goose egg. The flesh is snowy white, tender, and very juicy, since there seems to be a higher water content in this turnip than in many other varieties. The flavor is somewhat sweet, and so mild that the turnip can be eaten raw, at least when fresh from the garden. In storage, the flavor intensifies. It has been said that voles destroy the best things first, and something about this turnip makes it extremely attractive to them. Voles will seek it out even when other turnip varieties are nearby. Their fondness for this one may be turned to the gardener's advantage, since the culls make excellent bait for vole traps.
Turnips are extremely easy to grow, especially in fall. As nights get longer and cooler, turnips become crisper and sweeter. Best of all, a new flush of tender leaves will grow after each picking, with plants remaining productive at least until the first frost, and sometimes beyond.
They also grow in spring, but plant them early. Lengthening days trigger turnip plants to produce flowers and seeds instead of new leaves. Also, a few days of hot sun can make the greens taste strong and bitter in regions where spring gets hot quickly.
Terms and conditions, READ THIS PLEASE: Orders over $14 from this ad will be shipped with tracking, Otherwise: Seeds will be shipped economy/standard or first class 2-10 day shipping (NO TRACKING and no planting instructions to keep seed costs to the buyer low), in a ziplock baggie. Our goal is to save you money on quality seeds. We are responsible sellers, and we make sure our buyers are well taken care of. Shipped within 2 business days after payment. We are a seller that caters to experienced gardeners. (germination and plant care information is readily available online, but if you can't find germinating and care instructions, please feel free to message us). Most of our listings include germination instructions, so we do not ship growing instructions. Multiple orders of a single item will be combined into 1 ziplock. We are not responsible for buyer germination success, seeds have been tested. Seed count is approximate, and packaged by weight. Seeds vary in size, weight is exact, and based upon empirical count, quantity is estimated. Liability of seller is limited to the cost of the item(s).
Zellajake Farm and Garden: "Seeds for all your planting needs" since 2013