---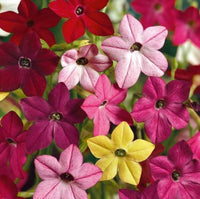 Tobacco Sensation Flower Mix Seeds
A beautiful aromatic perfume-like addition to your garden, Flowering Tobacco Sensation Mix features blooms in a range of pretty colors high atop lush foliage. Blooms are intensely fragrant, with their sweet smell becoming more penetrating in the cool evenings, its no wonder this variety is often called Jasmine Tobacco.

Direct sow in spring, pressing into the surface of the soil. Keep the soil lightly moist until germination, which usually occurs within 10-20 days. This plant can also be started indoors 6-8 weeks before the last frost of spring.