---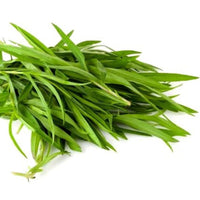 Russian Tarragon Seeds
Please note: At 3 million+ seeds per pound, these seeds will look like dust in the baggie.
The English word tarragon is a corruption of the French word estragon, or little dragon, derived from the Arabic tarkhun. Various folklore beliefs were that tarragon was good for treating the bites of venomous snakes, while others thought the name was due to the coiled serpent like roots of the plant. The Russian plant is thought to be milder in flavor than French tarragon, and is more robust, growing to a height of about 5 feet. The ancient Greeks and Romans did not include artemisias in their kitchen repertoire and it was only rarely mentioned during medieval times. The Arab botanist and pharmacist, Ibn-al-Baytar of Spain, mentioned it as a breath sweetener, sleep aid and as a seasoning for vegetables. It was not until the 16th century that tarragon could be considered one of the condiments of the Western world.
Germination: Indoor sow seeds 4-6 weeks before the last expected frost, surface sow; keep the temperature at 65-70 degrees F under indirect light until germination. When danger of frost has passed, transplant the seedlings two-three ft apart. Tarragon grows best in dry or well drained soil and full sun or part shade. Direct sowing is possible but somewhat difficult because of the extremely tiny seed. This herb attracts butterflies and bees, and repels harmful insects and deer. Russian tarragon seeds will germinate in soil in approximately 10 to 14 days, but can germinate in as few as 7 to 10 days under ideal conditions in a soil-less germination medium.
Microgreens basic growing instructions:
Cover the bottom of the container with an inch or two of moistened potting soil/mix or coir. Flatten and level it with your hand or a small piece of cardboard, taking care not to over-compress the soil. Scatter seeds evenly on top of the soil. Press gently into the soil using your hand or the cardboard. Cover the seeds with a thin layer of soil. Dampen the surface with a mister. If you prefer, you can skip this step and instead cover the container with a clear lid or plastic wrap until the seeds are sprouted. While waiting for sprouts to appear, usually within three to seven days, use the mister once or twice daily to keep the soil moist but not wet. Once seeds have sprouted, remove the cover (if you've used one) and continue to mist once or twice a day. Microgreens need about four hours daily of direct sunlight to thrive (south facing window). In winter months, some may need even more. Leggy, pale greens are a sign of not enough sunlight. Light needs can also be satisfied with a grow light that has a low heat output — you don't want to scorch your delicate greens. Microgreens will be ready to harvest about two to three weeks after planting. Look for the first set of "true leaves" as a sign of readiness. Then grab your scissors and snip the greens just above the soil line. To serve, wash the microgreens with water and dry with paper towels or a salad spinner. Harvest and serve them immediately for the freshest flavor, and add to soups, salads, sandwiches or main dishes. Store remaining cut microgreens in a plastic bag in your refrigerator.
Terms and conditions, READ THIS PLEASE: Orders over $14 from this ad will be shipped with tracking, Otherwise: Seeds will be shipped economy/standard or first class 2-10 day shipping (NO TRACKING and no planting instructions to keep seed costs to the buyer low), in a ziplock baggie. Our goal is to save you money on quality seeds. We are responsible sellers, and we make sure our buyers are well taken care of. Shipped within 2 business days after payment. We are a seller that caters to experienced gardeners. (germination and plant care information is readily available online, but if you can't find germinating and care instructions, please feel free to message us). Most of our listings include germination instructions, so we do not ship growing instructions. Multiple orders of a single item will be combined into 1 ziplock. We are not responsible for buyer germination success, seeds have been tested. Seed count is approximate, and packaged by weight. Seeds vary in size, weight is exact, and based upon empirical count, quantity is estimated. Liability of seller is limited to the cost of the item(s).
Zellajake Farm and Garden: "Seeds for all your planting needs" since 2013