---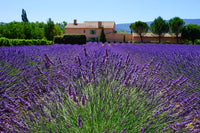 Beautiful and Fragrant Lavender Vera Seeds! || FREE SHIPPING || NON GMO ||
Lavender Vera is also known as English Lavender and is thought to be the original. There are many varieties of lavender now with various scents and growing habits. Some lavenders are used medicinally and others in perfumes, air fresheners, soaps and decorations.
Depending on the species, you can grow lavender plants in gardening zones 5 through 10, Lavender Vera being in the cold hardy range. These perennial bushes are very difficult and time consuming to start from seed, so most people tend to purchase one year old plants at garden centers and nurseries. They are easy to care for but will deteriorate after a few years, requiring replacing.
Germination: Refrigerate the seeds for 4-6 weeks before planting. Barely cover seeds in soil that drains well, and keep them at a temperature of 60-64 degrees. Keep the soil moist with a spray bottle to prevent over watering, and shield them from direct sun.
This slow growing starter will reach a suitable size for transplanting in about 6 months; transplanting can take place either in late spring or fall. Once established, lavender plants prefer full sun and soil that drains well, even rocky or sandy soil. Plant them 2-3ft apart in rows 2-3ft apart to allow enough space for growth.
Terms and conditions, READ THIS PLEASE: Orders over $14 from this ad will be shipped with tracking, Otherwise: Seeds will be shipped economy/standard or first class 2-10 day shipping (NO TRACKING and no planting instructions to keep seed costs to the buyer low), in a ziplock baggie. Our goal is to save you money on quality seeds. We are responsible sellers, and we make sure our buyers are well taken care of. Shipped within 2 business days after payment. We are a seller that caters to experienced gardeners. (germination and plant care information is readily available online, but if you can't find germinating and care instructions, please feel free to message us). Most of our listings include germination instructions, so we do not ship growing instructions. Multiple orders of a single item will be combined into 1 ziplock. We are not responsible for buyer germination success, seeds have been tested. Seed count is approximate, and packaged by weight. Seeds vary in size, weight is exact, and based upon empirical count, quantity is estimated. Liability of seller is limited to the cost of the item(s). Zellajake Farm and Garden: "Seeds for all your planting needs" since 2013