---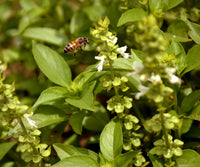 Buy 2 orders 300+ Seeds Lime Basil get 1 order 300+ Seeds Lime Basil FREE (over 900 seeds with double order)
Lime basil (Ocimum americanum) provides the traditional flavor of basil with a tangy hint of citrus, resulting in a refreshing herb that adds flavor to fish, poultry or rice dishes and blends well in oils, sauces, salad dressings and tea. Plant nursery plants or seeds after all danger of frost passes in spring.
Plant lime basil where the plant is exposed to sunlight for at least six hours each day. Basil requires well-drained, rich soil. Fertilize lime basil monthly, using a general-purpose liquid fertilizer diluted to half the solution recommended on the label. Avoid heavy fertilization, which weakens the flavor of the basil. Spread 1 inch of mulch around the plants when the lime basil is about 6 inches tall. An mulch such as chopped leaves, dry grass clippings or shredded bark keeps the soil moist and helps keeps weeds in check. Replenish the mulch in midsummer. Provide lime basil with about 1 inch of water every week during warm weather. Water slowly at the base of the plant. To avoid mold and mildew, avoid wetting the leaves and allow the top of the soil to dry between each watering. Promote healthy, bushy growth by pinching the tips of the lime basil plants when the plants are about 6 inches tall. To pinch the plants, use your fingernails to remove the growing tip down to the next set of leaves on the stem. Repeat every two to three weeks. Pinch blooms as they appear, as blooms draw energy from the plant, reducing healthy growth and flavor. Stake the plants if they begin to get top-heavy in midsummer. Install a bamboo stake 3 to 4 inches from the base of each plant and tie the plant loosely to the stake with a piece of garden twine. Harvest basil leaves throughout the season, as harvesting the plant promotes continued growth. To harvest, pinch the plants to about 1/4 inch above a node, which is the point on the stem where a new leaf is forming.
Gardeners with short growing seasons should start their seeds inside 21-30 days before the last frost date, sowing them thinly in flats and providing heat to speed germination. Transplant 15-18" apart. To direct sow, plant the seeds 1/4" deep in rich soil and full sun, thinning to 15-18" apart when the seedlings develop. Basil is a fantastic container plant!
Terms and conditions, READ THIS PLEASE: Orders over $14 from this ad will be shipped with tracking, Otherwise: Seeds will be shipped economy/standard or first class 2-10 day shipping (NO TRACKING and no planting instructions to keep seed costs to the buyer low), in a ziplock baggie. Our goal is to save you money on quality seeds. We are responsible sellers, and we make sure our buyers are well taken care of. Shipped within 2 business days after payment. We are a seller that caters to experienced gardeners. (germination and plant care information is readily available online, but if you can't find germinating and care instructions, please feel free to message us). Most of our listings include germination instructions, so we do not ship growing instructions. Multiple orders of a single item will be combined into 1 ziplock. We are not responsible for buyer germination success, seeds have been tested. Seed count is approximate, and packaged by weight. Seeds vary in size, weight is exact, and based upon empirical count, quantity is estimated. Liability of seller is limited to the cost of the item(s).
Zellajake Farm and Garden: "Seeds for all your planting needs" since 2013