---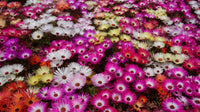 Always Free Shipping!!
Item specifics
Seller Notes: Germination test date and results will be on packet.
Climate: Dry, Temperate
Brand: zellkejake
Country/Region of Manufacture: United States
These tiny seeds, which will look like dust in the packet, will produce stunning daisy-like red, purple, orange, yellow, pink, and white flowers on a succulent plant.
Please note that these are tiny seeds, and will look like dust in the baggie.
Ice plant, or Livingstone daisies have traditionally been grouped under the namemesembryanthemum, but are now widely dispersed under other names. Frost-tender succulents, they thrive in sunny, dry conditions and locations. Livingstone daisies bloom for weeks in the spring and summer.
Description of Livingstone daisy: Livingstone daisies have flat, succulent leaves up to 3 inches long, with the plants hugging the ground. Flowers have dark centers and are colored pink, white, purple, lavender, crimson, or orange. Plants grow up to 8 inches high and spread to 12 inches wide. The flowers close at night and on cloudy days.
Growing Livingstone daisy: Livingstone daisies need full sun and sandy, well-drained soil. They tolerate drought and are resistant to salt spray, making them good for seaside plantings. Livingstone daisies tend to sunburn in hot, humid weather. Space plants 6 inches apart for full coverage.
Propagating Livingstone daisy: By seed. Sow seeds indoors 10 weeks prior to last frost date. Seeds germinate in 7 to 14 days at 60 degrees Fahrenheit. In frost-free locations, they can be seeded directly into the garden and thinned to the proper spacing. They will reseed, although the colors will not be the same in following years.
Uses for Livingstone daisy: These are ideal plants for mass plantings. They're wonderful sunny ground covers. Plant them in rock gardens; they are especially beautiful on slopes and hillsides. They're among the best plants for seaside locations.
Terms and conditions, READ THIS PLEASE: Orders over $14 from this ad will be shipped with tracking, Otherwise: Seeds will be shipped economy/standard or first class 2-10 day shipping (NO TRACKING and no planting instructions to keep seed costs to the buyer low), in a ziplock baggie. Our goal is to save you money on quality seeds. We are responsible sellers, and we make sure our buyers are well taken care of. Shipped within 2 business days after payment. We are a seller that caters to experienced gardeners. (germination and plant care information is readily available online, but if you can't find germinating and care instructions, please feel free to message us). Most of our listings include germination instructions, so we do not ship growing instructions. Multiple orders of a single item will be combined into 1 ziplock. We are not responsible for buyer germination success, seeds have been tested. Seed count is approximate, and packaged by weight. Seeds vary in size, weight is exact, and based upon empirical count, quantity is estimated. Liability of seller is limited to the cost of the item(s).
Zellajake Farm and Garden: "Seeds for all your planting needs" since 2013