---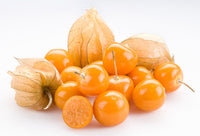 Always Free Shipping!
Item specifics
Seller Notes: "Tested 12/2016, germination 80%."
Country/Region of Manufacture: United States
Climate: Sub-tropical, Temperate
Brand: zellajake
Although not actually a true Tomatillo, this sweet variety is very similar.
Very small fruits from a highly productive plant.
Extremely veratile.
Plant produces good yields of ground cherry which are enclosed in papery husk. They turn to yellow-orange and fall off the plant when mature. Stores for several months while in husk. The ground cherry can be eaten raw, dried, preserved, and stewed. Also used in salads, pies, cakes, sauces, jams, and jellies.
Germination Info
Ground Cherry seeds are usually fairly easy to germinate, though germination time can be a bit longer than other vegetable seeds. 1) Prepare for planting. Tomatillo seeds should be sprouted in small containers, preferably 4" or smaller. In-ground germination is not recommended because conditions are not as easily controlled. Use a standard potting mix that is well drained. Make sure potting mix is damp prior to planting the seeds. With very small seeds such as Tomatillo, watering overly dry soil can cause the seeds to dislodge from their position and sink deep into cracks in the soil. Seeds that sink deeply into soil will not be able to reach the soil surface once germinated.
2) Plant seeds. Plant seeds 1/4" deep in the soil. Cover with soil and water carefully. Over watering can cause fungal growth which leads to seed rot. Excess water can also bury seeds deep in the soil where they will not be able break the surface. Water when the soil surface just begins to dry. Multiple seeds can be planted in a single starter container, but should be thinned once seedlings appear so only a single plant remains.
3) Germination. Soil should be kept consistently warm, from 70-85F. Cool soils, below about 60-65F, even just at night, will significantly delay or inhibit germination. Hot soils above 90F will also inhibit germination.
4) Care of seedlings. Once a few true leaves have developed, seedlings should be slowly moved outside (if sprouted indoors) to ambient light. Care should be taken not to expose seedlings to direct, scorching sun so plants may need to be hardened off via slow sun exposure. Hardening off can be done using a shaded or filtered light location, as well as protection from strong winds, rain or low humidity. Hardening off time varies, but can take 5-10 days.
5) Planting out. Plant in the ground once danger of frost has past and daytime temperatures consistently reach 65F.
Germination time: 2-6 weeks under ideal conditions.
Terms and conditions, READ THIS PLEASE: Orders over $14 from this ad will be shipped with tracking, Otherwise: Seeds will be shipped economy/standard or first class 2-10 day shipping (NO TRACKING and no planting instructions to keep seed costs to the buyer low), in a ziplock baggie. Our goal is to save you money on quality seeds. We are responsible sellers, and we make sure our buyers are well taken care of. Shipped within 2 business days after payment. We are a seller that caters to experienced gardeners, or those that are capable of looking up instructions independently (germination and plant care information is readily available online, but if you can't find germinating and care instructions, please feel free to message us). We do not include growing instructions. Multiple orders of a single item will be combined into 1 ziplock. We are not responsible for buyer germination success, seeds have been tested. Seed count is approximate, and packaged by weight. Seeds vary in size, weight is exact, and based upon empirical count, and quantity is estimated. Liability of seller is limited to the cost of the item (s).