---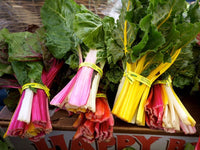 Always Free Shipping!!
Item specifics
Seller Notes: Germination test date and results will be on packet.
Climate: Sub-tropical, Temperate
Brand: zellajake
Country/Region of Manufacture: United States
Rainbow Swiss Chard is a multi-color leafed vegetable that makes a good alternative to spinach. Growing Chard can be easier than growing spinach as it is better able to withstand higher temperatures and water shortages.
As well as its value as a food crop Swiss Chard also has a very striking value as an ornamental plant and so often appears in a gardens ornamental borders or ornamental pots. Chard is an excellent source of vitamins and minerals. It's stalks can be of various colours, particularly Rainbow Chard.
Among the benefits of growing Swiss chard: it's an excellent source of several minerals and vitamins A, C, and K, making it a valuable food for maintaining strong bones.
Chard is known by a number of different names in including Swiss Chard, Spinach Beet,and Leaf beet.
Prepare a rich, fertile bed by loosening the soil while mixing in compost and a balanced fertilizer, applied at label rates. Plant seeds half an inch deep and 3 inches apart. Set out seedlings 12 inches apart. Indoors or out, thin newly germinated seedlings with cuticle scissors instead of pulling them out. Chard seed capsules often contain two or more seeds. If more than one germinates, promptly snip off all but the strongest sprout at the soil line. Gradually thin direct-sown seedlings to 12 inches apart.
Terms and conditions, READ THIS PLEASE: Orders over $14 from this ad will be shipped with tracking, Otherwise: Seeds will be shipped economy/standard or first class 2-10 day shipping (NO TRACKING and no planting instructions to keep seed costs to the buyer low), in a ziplock baggie. Our goal is to save you money on quality seeds. We are responsible sellers, and we make sure our buyers are well taken care of. Shipped within 2 business days after payment. We are a seller that caters to experienced gardeners. (germination and plant care information is readily available online, but if you can't find germinating and care instructions, please feel free to message us). Most of our listings include germination instructions, so we do not ship growing instructions. Multiple orders of a single item will be combined into 1 ziplock. We are not responsible for buyer germination success, seeds have been tested. Seed count is approximate, and packaged by weight. Seeds vary in size, weight is exact, and based upon empirical count, quantity is estimated. Liability of seller is limited to the cost of the item(s).
Zellajake Farm and Garden: "Seeds for all your planting needs" since 2013
Image Credit Flickr Creative Commons - Jun Seita - https://www.flickr.com/photos/jseita/