---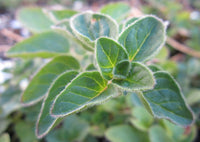 Always Free Shipping!
Item specifics
Seller Notes: Germination test date and results will be on packet.
Country/Region of Manufacture: United States
Climate: Temperate
Brand: zellajake
Greek Oregano!
Type: Perennial in zones 5 to 9
Planting time: Spring, fall
Features: Strongly aromatic and flavorful, dark green leaves, small white flowers
Light: Full sun to part shade
Soil: Moist, but well drained, pH 6.5 to 7
Plant spacing: 12 to 18 inches
Plant size: 8 inches tall; 24 inches tall when in bloom
Garden use: Herb garden, containers
Culinary use: Major ingredient in Greek, Italian, and Spanish cuisine
Tortoise and lizard enthusiasts, check out the Herpetology Store within our eBay Store for this and other forage seeds!
Enjoy oregano aroma and flavor on pizza, in egg dishes, and in tomato sauces. Native to the Mediterranean region, this plant prefers climates with lower humidity, so keep the foliage and roots away from too much moisture. Give it good air circulation. For that reason, it is perfectly suited for a container. In the ground it makes a ground-cover-like mat. Harvest anytime, but especially as the stems begin to get tall and are getting ready to flower -- that is when the leaves are the most flavorful. Cut it back several times during the growing season to harvest the leaves from the stems.
Terms and conditions, READ THIS PLEASE: Orders over $14 from this ad will be shipped with tracking, Otherwise: Seeds will be shipped economy/standard or first class 2-10 day shipping (NO TRACKING and no planting instructions to keep seed costs to the buyer low), in a ziplock baggie. Our goal is to save you money on quality seeds. We are responsible sellers, and we make sure our buyers are well taken care of. Shipped within 2 business days after payment. We are a seller that caters to experienced gardeners. (germination and plant care information is readily available online, but if you can't find germinating and care instructions, please feel free to message us). Most of our listings include germination instructions, so we do not ship growing instructions. Multiple orders of a single item will be combined into 1 ziplock. We are not responsible for buyer germination success, seeds have been tested. Seed count is approximate, and packaged by weight. Seeds vary in size, weight is exact, and based upon empirical count, quantity is estimated. Liability of seller is limited to the cost of the item(s).
Zellajake Farm and Garden: "Seeds for all your planting needs" since 2013