---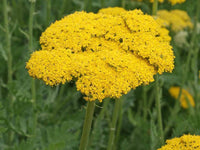 Gold Yarrow Seeds - Achillea milleforum
Best grown in lean, dry to medium, well-drained sandy loams in full sun.

Does well in average garden soils and tolerates poor soils as long as drainage is good. Avoid heavy clays and moist, rich, fertile soils. Plants tolerate hot and humid summers with some drought. Plants are best sited in locations protected from strong winds. Deadhead spent flower heads to lateral buds to promote additional bloom. Cut plants back to basal leaves after flowering to tidy the planting and to encourage possible additional fall bloom. Divide clumps when they become overcrowded (every 3-4 years).

Sowing: February to June or September to October.
Sow the seeds on the surface of lightly firmed, moist seed compost in pots or trays. Cover seed with only a light sprinkling of compost or vermiculite as light aids germination. Water from the base of the tray, place in a propagator or warm place, ideally at 59 to 68°F. Keep the compost moist but not wet at all times. Germination 5 to 10 days.
Prick out each seedling once it has its first set of "true" leaves and transplant into 3 or 4" pots containing free-draining compost and grow them on in frost free conditions until large enough to plant outside. Plant out in well drained soil in full sun.
Gradually harden to outdoor conditions for 10 to 15 days before planting out after all risk of frost has passed. Overwinter autumn sown plants in frost-free conditions before planting out the following spring. Plant 18" apart.