---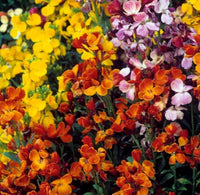 English Wallflower Mix Seeds
This old-fashioned English favorite has fragrant flowers in shades of red, orange, yellow and pink. Suitable for cottage gardens, beds and borders, and rock gardens.
Please place all desired items in cart before purchasing. Thanks for shopping with us! J
English wallflower is a short lived perennial growing to 1ft 8in. Prefers free-draining, alkaline, dry or even rocky places such as sea cliffs. Produces flowers in succession over several months, helping to bridge the 'June-gap'. Interestingly, recent research has shown that this plant contains the chemical compound cheiranthin which has a stronger cardiotonic action than digitalis (obtained from species such as Foxglove) and supporting a failing heart in a similar manner.
For best germination, direct sow in the fall for germination in the spring. Since this seed needs light to germinate, sow it on the surface of the soil and compact it lightly. For spring planting, mix the seed with moist sand and store it in the refrigerator for 30 days before direct sowing on the surface of the soil. This seed can also be started indoors, sown on the surface of a flat; keep the soil lightly moist and at a temperature of 65-70 degrees until germination, which should occur within 10-15 days. Transplant the seedlings after the last spring frost.
Terms and conditions, READ THIS PLEASE: Orders over $14 from this ad will be shipped with tracking, Otherwise: Seeds will be shipped economy/standard or first class 2-10 day shipping (NO TRACKING and no planting instructions to keep seed costs to the buyer low), in a ziplock baggie. Our goal is to save you money on quality seeds. We are responsible sellers, and we make sure our buyers are well taken care of. Shipped within 2 business days after payment. We are a seller that caters to experienced gardeners. (germination and plant care information is readily available online, but if you can't find germinating and care instructions, please feel free to message us). Most of our listings include germination instructions, so we do not ship growing instructions. Multiple orders of a single item will be combined into 1 ziplock. We are not responsible for buyer germination success, seeds have been tested. Seed count is approximate, and packaged by weight. Seeds vary in size, weight is exact, and based upon empirical count, quantity is estimated. Liability of seller is limited to the cost of the item(s).