---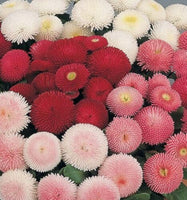 English Daisy Double Flower Mix
An old English garden favorite. Fragrant, button-shaped flowers with double blossoms of white, pink and rose.
Please place all desired items in cart before purchasing. Thanks for shopping with us! J
The dainty plants stay attractive spring through early summer. Grows 6 to 8 inches tall. A ground cover that does well with other rock garden plants such as Armeria, Dianthus, Coreopsis and Iberis. English Daisy is also an excellent nectar plant for bees and has various culinary, cosmetic and medicinal purposes. There are times when English Daisy does not readily reseed itself so we recommend seeding every year to ensure continued flowering.
Sow seed indoors in late February, on top of soil surface, but do not cover as light aids germination. Gently tamp into top of soil. Germinate at 70 F for 14 days. Grow under lights, or in a south facing window, before hardening off and transplanting to a sunny site. Space plants 6" apart in the garden in full sun to partial shade. Prefers a rich, moist soil. Keep well watered during the growing season. A direct seeding can be done in May and June for flowering in the following year.