---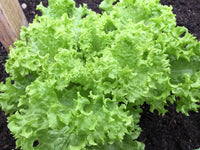 Escarole Broadleaf Batavian Heirloom Seeds!
Chichorium endiva var. latifolium
80 days. Some of the best gourmet salads include escarole for its snappy flavor, crunchy texture and beauty. Blanching (described inside packet) gives it a cream color and milder flavor. Broadleaf Batavian also makes an excellent baby green when harvested young. Essential in mesclun.
Days to Emerge:
7-14 days
Seed Depth:
surface to 1/4"
Seed Spacing:
A group of 3 seeds every 10"
Row Spacing:
18"
Thinning:
When 2" tall, thin to 1 every 10"
When to sow outside: 4 to 6 weeks before average last frost or as soon as soil can be worked, or 8 to 10 weeks before average first frost. In mild climates (USDA zones 8 or warmer), sow in fall for winter harvest.
When to start inside: 8 to 10 weeks before average last frost; transplant outside when plants have grown for 4 to 6 weeks.
Harvesting: In fall, harvest after first couple of light frosts which improve flavor. When plants are 12"-16" across, entire head can be cut off at base. In spring, harvest before temperatures get above 90°F. Some people peel away the outer leaves, as they tend to be tougher and more bitter than inner leaves. The leaves can actually be harvested anytime in a "cut and- come-again" fashion; this is particularly good when seeds are sown too late in spring, and warm weather is approaching quickly.
Terms and conditions, READ THIS PLEASE: Orders over $14 from this ad will be shipped with tracking, Otherwise: Seeds will be shipped economy/standard or first class 2-10 day shipping (NO TRACKING and no planting instructions to keep seed costs to the buyer low), in a ziplock baggie. Our goal is to save you money on quality seeds. We are responsible sellers, and we make sure our buyers are well taken care of. Shipped within 2 business days after payment. We are a seller that caters to experienced gardeners. (germination and plant care information is readily available online, but if you can't find germinating and care instructions, please feel free to message us). Most of our listings include germination instructions, so we do not ship growing instructions. Multiple orders of a single item will be combined into 1 ziplock. We are not responsible for buyer germination success, seeds have been tested. Seed count is approximate, and packaged by weight. Seeds vary in size, weight is exact, and based upon empirical count, quantity is estimated. Liability of seller is limited to the cost of the item(s).
Zellajake Farm and Garden: "Seeds for all your planting needs" since 2013