---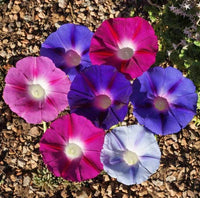 This morning glory mix contains Scarlett O'hara, Grandpa Ott, Heavenly Blue, and the RARE Moonflower!
Not just another morning glory mix. During the day, the Scarlett O'hara, Grandpa Ott, and Heavenly Blue flowers will bloom. At night, the Alba, or Moonflower provides a steady stream of delicate blooms.
This mix is for the discerning gardener.
In zones 9 and up, the heavenly blue and moonflower may be perennials.
In the garden, morning glories need moderately fertile, well-drained soil in full sun. Provide shelter from wind. Prune climbing species in spring. Under glass, provide full light with protection from the hottest sun. Water freely and fertilize monthly during the growing season, but water sparingly in winter. Climbers and trailing species need support.
Morning glory plants are easily started by seeds sown directly in the garden after the threat of frost has passed and the soil has warmed up. Indoors, the seeds should be started about 4-6 weeks before the last frost in your area. Plant seeds just below soil surface.
Terms and conditions, READ THIS PLEASE: Orders over $14 from this ad will be shipped with tracking, Otherwise: Seeds will be shipped economy/standard or first class 2-10 day shipping (NO TRACKING and no planting instructions to keep seed costs to the buyer low), in a ziplock baggie. Our goal is to save you money on quality seeds. We are responsible sellers, and we make sure our buyers are well taken care of. Shipped within 2 business days after payment. We are a seller that caters to experienced gardeners. (germination and plant care information is readily available online, but if you can't find germinating and care instructions, please feel free to message us). Most of our listings include germination instructions, so we do not ship growing instructions. Multiple orders of a single item will be combined into 1 ziplock. We are not responsible for buyer germination success, seeds have been tested. Seed count is approximate, and packaged by weight. Seeds vary in size, weight is exact, and based upon empirical count, quantity is estimated. Liability of seller is limited to the cost of the item(s).
Zellajake Farm and Garden: "Seeds for all your planting needs" since 2013