---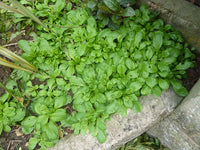 Corn Salad, Lamb's Lettuce, or Mache makes a fantastic salad, and is also used as garnish. Also perfect forage food for torts and other herbivorous herps.
Valerianella olitoria (Dutch Corn Salad)
Corn Salad, or Mache, is a cold-season green with mild flavor with a slightly 'nutty' taste. It has been cultivated in Europe for many centuries as a salad green, and is especially rich in vitamin C.
Mache should be grown during cooler parts of the growing season, during early spring or fall, and can even be grown over the winter season in many zones. It can withstand temperatures as low as -20 degrees F, although a cold frame or greenhouse should be used if freezing rain, wind, or heavy winds are a concern.

Sowing
Mache should be grown in a cool site, and will show better germination rates with soil temps between 50-70 degrees F. Warmer temperatures may deter germination. Sow seeds lightly, approximately ¼-1/2" deep. Germination should occur between 7-14 days.

Space seeds 1"apart if direct seeding, and thin to 3-6" between growing plants, with 4" between rows.

Mache will grow in a wide variety of soil types. For best results, the growing medium should be rich in compost and other material.
As they mature, mache plants will form a rosette of medium to dark green leaves that are elongated or slightly cup shaped. Thin the plants as required to provide room for them to reach full size and transplant or eat the thinned mache leaves.

Plants will complete their growth cycle in 40-70 days, depending on conditions.

Water moderately, and fertilize with an all-purpose blend if needed. Mache can be grown in full sun to part shade, but can be sensitive to heat and is more appropriate as a cool season crop.
THE TORTOISE TABLE GIVES CORN SALAD THE GREEN LIGHT!
Terms and conditions, READ THIS PLEASE: Orders over $14 from this ad will be shipped with tracking, Otherwise: Seeds will be shipped economy/standard or first class 2-10 day shipping (NO TRACKING and no planting instructions to keep seed costs to the buyer low), in a ziplock baggie. Our goal is to save you money on quality seeds. We are responsible sellers, and we make sure our buyers are well taken care of. Shipped within 2 business days after payment. We are a seller that caters to experienced gardeners. (germination and plant care information is readily available online, but if you can't find germinating and care instructions, please feel free to message us). Most of our listings include germination instructions, so we do not ship growing instructions. Multiple orders of a single item will be combined into 1 ziplock. We are not responsible for buyer germination success, seeds have been tested. Seed count is approximate, and packaged by weight. Seeds vary in size, weight is exact, and based upon empirical count, quantity is estimated. Liability of seller is limited to the cost of the item(s).
Zellajake Farm and Garden: "Seeds for all your planting needs" since 2013
Image Credit Flickr Creative Commons - Andy Roberts - https://www.flickr.com/photos/aroberts/