---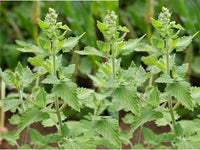 Always Free Shipping!!
Germination test date and results will be on packet.
Cats can enjoy a garden, too, especially if it contains aromatic catnip (Nepeta cataria). A relative of mint, catnip produces a stimulant that makes cats rub and roll around upon contact. The plant also provides attractive foliage and flowers, making it a suitable choice for herb gardens, flower beds or as a potted plant. It grows as a perennial in U.S. Department of of Agriculture hardiness zones 8 and 9, as long as has rich, well-drained soil and sunshine. Catnip germinates quickly when grown from seed planted in early spring, about eight weeks before the last expected frost.
1
Place the potting soil in a bucket or bowl. Water the soil thoroughly and allow it soak up the moisture for 20 to 30 minutes. The soil is ready to use when it feels as damp as a wrung-out sponge.
2
Fill 2-inch diameter seedling pots with the moistened potting soil to within 1/2 inch of the rim.
3
Sow 20-30 seeds on the soil surface in each pot. Cover the seeds very lightly with a thin layer of fine moist soil.
4
Cover the pots with a clear plastic bag to retain moisture during germination. Set the pots in a warm area to germinate, between 70 and 75 degrees Fahrenheit.
5
Remove the bags and mist the soil surface lightly with water from a spray bottle if the soil surface begins to dry out before germination. The seeds usually take two weeks to germinate. Remove the bags and place the plants in full sunlight once they sprout.
42,300 seeds/ounce
Terms and conditions, READ THIS PLEASE: Orders over $14 from this ad will be shipped with tracking, Otherwise: Seeds will be shipped economy/standard or first class 2-10 day shipping (NO TRACKING and no planting instructions to keep seed costs to the buyer low), in a ziplock baggie. Our goal is to save you money on quality seeds. We are responsible sellers, and we make sure our buyers are well taken care of. Shipped within 2 business days after payment. We are a seller that caters to experienced gardeners. (germination and plant care information is readily available online, but if you can't find germinating and care instructions, please feel free to message us). Most of our listings include germination instructions, so we do not ship growing instructions. Multiple orders of a single item will be combined into 1 ziplock. We are not responsible for buyer germination success, seeds have been tested. Seed count is approximate, and packaged by weight. Seeds vary in size, weight is exact, and based upon empirical count, quantity is estimated. Liability of seller is limited to the cost of the item(s).
Zellajake Farm and Garden: "Seeds for all your planting needs" since 2013