---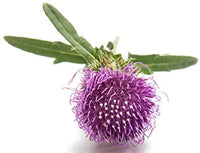 Burdock
Arctium lappa Seeds
Also known as Chinese Bell Flower or Japanese Bell Flower, this perennial is a member of the Campanula family that grows to 30" tall. 
The blossoms are large, blue-violet or white 5-pointed stars. In the West, it is known as an ornamental, but this East Asian native has long been grown in China, Korea, Japan and East Siberia for medicinal purposes. The root is used in many Asian dishes and salads. Burdock plants grow along roadsides, in open fields, at the edges of woods, and anywhere ground has been disturbed just as most thistles would. As a biennial, the first year burdock forms a cluster of large leaves. The large leaves grow from a carrot-like root that can penetrate over two feet into the ground. It is this Burdock root that is most often used in herbal medicine. After a year of growth, Burdock bolts with smaller leaves and, in the late summer, purple-pink flowers. In autumn, these flowers are replaced by round brown burrs that are also used medicinally.
Start Burdock seeds directly outdoors as soon in the spring as the soil can be prepared. Cover the Great Burdock seeds with light soil, between 1/8 and 1/4" deep, and lightly tamp down.