---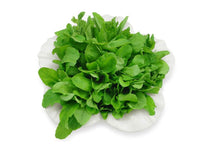 BUY 2 Arugula Seed Orders GET 1 arugula seed order FREE! Purchase 2 from this listing and we will ship 3 orders in 1 packet.
About Arugula
Arugula is an aromatic salad green. It is also known as rocket, roquette, rugula and rucola, and is popular in Italian cuisine. How to grow, use, and store.
Like most salad greens, Arugula is very low in calories and is high in vitamins A and C. A 1/2 cup serving is two calories.
History and Lore
In Roman times Arugula was grown for both it's leaves and the seed. The seed was used for flavoring oils. On another interesting note, Rocket or Arugula seed has been used as an ingredient in aphrodisiac concoctions dating back to the first century, AD. (Cambridge World History of Food).
Part of a typical Roman meal was to offer a salad of greens, frequently Arugula ( spelled Arugola), romaine, chicory, mallow and lavender and seasoned with a "cheese sauce for lettuce"
Grow Arugula At Home
Arugula is one of those great, simple greens to grow at home. Sow the seeds in a sunny location in succession plantings (approximately every 20 to 30 days) from early spring to fall.
Arugula performs best in spring to early summer. After that time, plant it under the shade of an "airy" tree (not dense shade), or under shade cloth. It is not fussy at all, although too much drought and summer heat will cause the leaves to be smaller and more "peppery".
This plant does go to "seed" fairly quickly. But use the flowers in your salads and collect seeds for future plantings. And if you make your "succession" plantings, then the new plants will be ready as the older plants are going to seed.
Harvest
To harvest simply pick the young leaves and the plant will keep generating new ones for months. Older leaves are a bit tougher and hotter.
The flowers are small, white with dark centers and can be used in the salad for a light piquant flavor.
Terms and conditions, READ THIS PLEASE: Orders over $14 from this ad will be shipped with tracking, Otherwise: Seeds will be shipped economy/standard or first class 2-10 day shipping (NO TRACKING and no planting instructions to keep seed costs to the buyer low), in a ziplock baggie. Our goal is to save you money on quality seeds. We are responsible sellers, and we make sure our buyers are well taken care of. Shipped within 2 business days after payment. We are a seller that caters to experienced gardeners. (germination and plant care information is readily available online, but if you can't find germinating and care instructions, please feel free to message us). Most of our listings include germination instructions, so we do not ship growing instructions. Multiple orders of a single item will be combined into 1 ziplock. We are not responsible for buyer germination success, seeds have been tested. Seed count is approximate, and packaged by weight. Seeds vary in size, weight is exact, and based upon empirical count, quantity is estimated. Liability of seller is limited to the cost of the item(s).
Zellajake Farm and Garden: "Seeds for all your planting needs" since 2013