---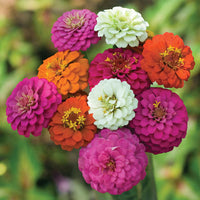 Always Free Shipping!
Zinnia Dahlia Mix!
This will be one of your favorite annual cut flowers, very easy to grow!
Beautiful big blooms resembling dahlia-like flowers, packed with petals. This mix has a diverse range of colors. Zinnias are easy to grow, and bloom quickly to fill your garden or patio with stunning colors all summer. They'll keep blooming all through a hot season, except in the deep south, and make wonderful cut flowers. Butterfly and hummingbird attractant.
Tortoise and lizard enthusiasts, check out the Herpetology Store within our eBay Store for this and other forage seeds!
A mix of yellows, roses, scarlet, green, orange, pink, red, purple, and coral. Ht. 40-50".
DAYS TO GERMINATION:
7-14 days days at 80-85°F (27-29°C). A heat mat will maintain an accurate temperature. Lower temperatures will result in slower germination.
Germination:
Transplant: Sow 4 weeks before last frost. Cover seed and keep soil surface moist until emergence. When seedlings have true leaves, transplant into cell packs. Do not allow plants to become root bound and do not disturb roots; transplant shock may cause double to revert back to singles.
Direct seed: After last frost when the soil is warm, sow thinly, 6 seeds per foot, 1/4" deep. Cover lightly but firmly. Keep surface from drying out until emergence. Thin after the first true leaves appear.
LIGHT PREFERENCE:
Sun.
Terms and conditions, READ THIS PLEASE: Orders over $14 from this ad will be shipped with tracking, Otherwise: Seeds will be shipped economy/standard or first class 2-10 day shipping (NO TRACKING and no planting instructions to keep seed costs to the buyer low), in a ziplock baggie. Our goal is to save you money on quality seeds. We are responsible sellers, and we make sure our buyers are well taken care of. Shipped within 2 business days after payment. We are a seller that caters to experienced gardeners, or those that are capable of looking up instructions independently (germination and plant care information is readily available online, but if you can't find germinating and care instructions, please feel free to message us). We do not include growing instructions. Multiple orders of a single item will be combined into 1 ziplock. We are not responsible for buyer germination success, seeds have been tested. Seed count is approximate, and packaged by weight. Seeds vary in size, weight is exact, and based upon empirical count, and quantity is estimated. Liability of seller is limited to the cost of the item (s).