---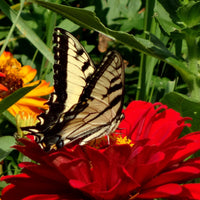 Always Free Shipping!
These flowers are a fantastic addition to your wildflower garden, growing exceptionally well in zones 3a-9b!
There will be some orange and pink zinnia colors that bloom due to genetic variances.
Germination test date and results will be on packet.
These flowers are a fantastic addition to your wildflower garden, growing exceptionally well in zones 3a-9b!
In zone 9b, we get 3 successful plantings in each season. Start indoors the last week of Feb. Remove from outside garden in June, scattering seeds from brown, dried heads. Repeat in early to mid October. If you live in the deep south, and you are seeking an annual that thrives in the heat and humidity, zinnias are a great start!
The Zinnia cherry queen is a flashy flower that brings a burst of the deepest red blooms with yellow centers to a garden. The many small layers of petals give these zinnias a fullness and texture that make them a standout in any flowerbed. Each plant bears many dark-red flowers, and the plants have a short, bush-like appearance. Each flower is striking not only for its deep color and contrast, but also for the large size of the blooms. Each flower can measure up to 5" in diameter.
In just 60 days, Zinnia cherry queen seeds go from bare seeds to flowering plants covered in brilliant blooms. The seeds should be sown in an area that gets full sunlight. The spacing should be 9 to 12 inches, allowing plenty of air circulation around the plants. These annuals can be germinated indoors for a head start on the growing season or the seeds can be planted outdoors after the last frost has passed. Seeds are packaged and germination tested for the current year.
Plant Features:
Blooms July through September
Grows to a height of 24 to 30 inches
Plant seeds at a depth of 1/4 inch
Germination is in about 5 to 14 days
Terms and conditions, READ THIS PLEASE: Orders over $14 from this ad will be shipped with tracking, Otherwise: Seeds will be shipped economy/standard or first class 2-10 day shipping (NO TRACKING and no planting instructions to keep seed costs to the buyer low), in a ziplock baggie. Our goal is to save you money on quality seeds. We are responsible sellers, and we make sure our buyers are well taken care of. Shipped within 2 business days after payment. We are a seller that caters to experienced gardeners, or those that are capable of looking up instructions independently (germination and plant care information is readily available online, but if you can't find germinating and care instructions, please feel free to message us). We do not include growing instructions. Multiple orders of a single item will be combined into 1 ziplock. We are not responsible for buyer germination success, seeds have been tested. Seed count is approximate, and packaged by weight. Seeds vary in size, weight is exact, and based upon empirical count, and quantity is estimated. Liability of seller is limited to the cost of the item (s).