---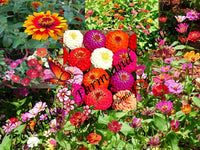 Zin Master Zinnia Mix Seeds
Seeding rate 100 seeds per square foot.
Very few annuals are more beautiful or easier than a beautiful bed or mass planting of colorful Zinnias! Large and small short and tall, and as many varieties of warm colors as you can imagine, for generations, Zinnias have been a classic cut flower favorite! Plant Zin Master Mix for an array of blooms in a plethora of sizes and colors!
This All-Zinnia Flower Mix contains 10 different species of ALL ANNUAL zinnias, for big color throughout the season in any region! Plant in a full sun, well draining area and get ready to be dazzled!
Zinnia "Dahlia Flowered"
Zinnia "California Giant"
Zinnia "Pumila"
Zinnia "Lilliput"
Zinnia "Mexican"
Zinnia "Thumbelina"
PLANTING INSTRUCTIONS:
Plant either in the spring (one month prior to date of last hard freeze) or late fall (after October).
Preparation and Germination: Prepare area to be planted by clearing of weeds. Work the soil to a depth of 1-2". Spread seeds evenly. Rake the seeds in or cover to a depth of 1/8"-1/4" . Keep area moist for 2-4 weeks, once established, water as needed. Do not fertilize wildflower seed mixes.
TIP! It is common for gardeners combine with clean, dry sand at a ratio of 3:1 (sand to seed) and scatter by hand or mechanical spreader.
Terms and conditions, READ THIS PLEASE: Orders over $14 from this ad will be shipped with tracking, Otherwise: Seeds will be shipped economy/standard or first class 2-10 day shipping (NO TRACKING and no planting instructions to keep seed costs to the buyer low), in a ziplock baggie. Our goal is to save you money on quality seeds. We are responsible sellers, and we make sure our buyers are well taken care of. Shipped within 2 business days after payment. We are a seller that caters to experienced gardeners, or those that are capable of looking up instructions independently (germination and plant care information is readily available online, but if you can't find germinating and care instructions, please feel free to message us). We do not include growing instructions. Multiple orders of a single item will be combined into 1 ziplock. We are not responsible for buyer germination success, seeds have been tested. Seed count is approximate, and packaged by weight. Seeds vary in size, weight is exact, and based upon empirical count, quantity is estimated. Liability of seller is limited to the cost of the item(s).