---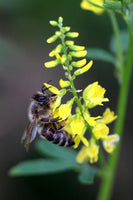 Always Free Shipping!!
Item specifics
Seller Notes: Germination test date and results will be on packet.
Sunlight: Full Sun
Country/Region of Manufacture: United States
Climate: Cold, Sub-tropical, Temperate
Brand: zellajake
Yellow Sweet Clover is an extremely versatile, cool-season legume. Historically it is one of the most utilized green manure crops in the Midwest.
Carry a biennial yellow sweet clover because of its superior winter hardiness and versatility. Sweet clover has the potential to produce up to 100 lb/A of N during the first season and 200 lb/A N over its lifespan. With sweet clovers extensive rooting system potentially penetrating down 5' into the soil profile and the ability to render P, K and other nutrients available, this makes it an excellent choice for rejuvenating poor and thin soils. This species provides valuable benefits to a wide array of wildlife species from birds to large mammals. Pollinators swarm to sweet clover during its second growing season to collect pollen from its extensive flowering period which occurs May thru August.
Attracts deer and turkey!
Cover crop.
Nitrogen fixing.
P and K rendering.
Terms and conditions, READ THIS PLEASE: Orders over $14 from this ad will be shipped with tracking, Otherwise: Seeds will be shipped economy/standard or first class 2-10 day shipping (NO TRACKING and no planting instructions to keep seed costs to the buyer low), in a ziplock baggie. Our goal is to save you money on quality seeds. We are responsible sellers, and we make sure our buyers are well taken care of. Shipped within 2 business days after payment. We are a seller that caters to experienced gardeners, or those that are capable of looking up instructions independently (germination and plant care information is readily available online, but if you can't find germinating and care instructions, please feel free to message us). We do not include growing instructions. Multiple orders of a single item will be combined into 1 ziplock. We are not responsible for buyer germination success, seeds have been tested. Seed count is approximate, and packaged by weight. Seeds vary in size, weight is exact, and based upon empirical count, and quantity is estimated. Liability of seller is limited to the cost of the item (s).