---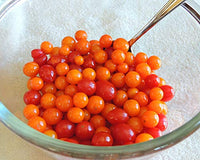 Dwarf Red Currant Tomato plants bear masses of 1/2" sweet, flavor packed fruit! A true, rare novelty!
Perfect for salads, cooking, or just enjoying straight off the vine!
Red Currant plants produce copious quantities of small (~1/2" diameter), deep red tomatoes that are exceptionally sweet and packed with flavor. They typically require around 75 days to reach maturity, and make a good choice for containers and hanging baskets, though they are indeterminate growers.
Indeterminate!
Start:
Seeds or Seedlings
Germination:
6 to 12 days, 60F to 95F
Seed Life:
4 years
Planting:
Soil:
Well Drained
Sunlight:
Full Sun
Seeds:
1/8" deep in flats
Seedlings:
12" to 36 " apart
Day To Harvest:
65 to 80
Terms and conditions, READ THIS PLEASE: Orders over $14 from this ad will be shipped with tracking, Otherwise: Seeds will be shipped economy/standard or first class 2-10 day shipping (NO TRACKING and no planting instructions to keep seed costs to the buyer low), in a ziplock baggie. Our goal is to save you money on quality seeds. We are responsible sellers, and we make sure our buyers are well taken care of. Shipped within 2 business days after payment. We are a seller that caters to experienced gardeners. (germination and plant care information is readily available online, but if you can't find germinating and care instructions, please feel free to message us). Most of our listings include germination instructions, so we do not ship growing instructions. Multiple orders of a single item will be combined into 1 ziplock. We are not responsible for buyer germination success, seeds have been tested. Seed count is approximate, and packaged by weight. Seeds vary in size, weight is exact, and based upon empirical count, quantity is estimated. Liability of seller is limited to the cost of the item(s).
Zellajake Farm and Garden: "Seeds for all your planting needs" since 2013