---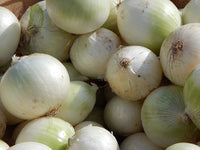 White Sweet Spanish Onion Seeds || FREE SHIPPING || NON GMO
Long day northern onion, perfect for hardiness zones 7a and below. White Sweet Spanish Onion Seeds: Large sweet white onion with globe shape and mild flavor, so they are fantastic fresh on salads and sandwiches! Good for green bunching or grows to over 5" in diameter when fully mature. Not a long-term storage variety. Long day. Onions are an ingredient in many a dish dish acting, yet they are often overlooked in the garden.
While easy to grow from seed, the key is selecting the right type for the region. Long day onions tend to grow best in the North, when the longer days of summer trigger bulbing.
Sow seeds 1" deep in the soil and approximately half an inch or more apart.
If planting rows, space them at least one and half to two feet apart. Germination occurs within 7-10 days, soil temperature affects this process.