---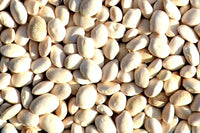 White Dixie Butterpea Seeds,
White Dixie Butter Pea, produces delicious, small limas. Three to four nearly round lima beans form inside each pod. Bush type plants grow from 16 to 24 inches high. This is a fantastic lima bean variety for southern gardens, as it grows very well in hot weather!
Plant seeds 2-3 weeks after the last expected frost. Soil temperature should be at least 70 degrees. Place 2 seeds per spot about 5" apart, "eye" side down and 1" deep, in rows 3' apart. The soil should be enriched with compost or other matter, and well cultivated. Lima beans need full sun. Germination may be slow. Thin the plants to 8" apart once established.