---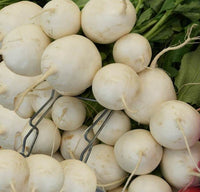 Unique and Nutritious Detroit White Beet seeds!
You get the distinctive taste of beets without the annoying red stains. The flavorful roots are a dusky white and fantastic in salads.
Till in aged manure before planting. Beets require especially good nutrition and a high phosphorus level to germinate. Go easy on nitrogen however, an excess will cause sprawling greens and tiny bulbs beneath the soil.
Wait until soil reaches 50°F before planting.
Plant seeds ½ inch deep and 1-2 inches apart.
Make sure soil remains moist for germination.
In zones with low moisture and rainfall, soak the seeds for 24 hours before planting.
Early crop can be planted in March/April, and late crop anytime from June to September. Successive plantings are also possible as long as the weather doesn't exceed 75°F. Space plantings about 20 days apart.
Winter crops are a definite possibility in Zone 9 and above.
Terms and conditions, READ THIS PLEASE: Orders over $14 from this ad will be shipped with tracking, Otherwise: Seeds will be shipped economy/standard or first class 2-10 day shipping (NO TRACKING and no planting instructions to keep seed costs to the buyer low), in a ziplock baggie. Our goal is to save you money on quality seeds. We are responsible sellers, and we make sure our buyers are well taken care of. Shipped within 2 business days after payment. We are a seller that caters to experienced gardeners. (germination and plant care information is readily available online, but if you can't find germinating and care instructions, please feel free to message us). Most of our listings include germination instructions, so we do not ship growing instructions. Multiple orders of a single item will be combined into 1 ziplock. We are not responsible for buyer germination success, seeds have been tested. Seed count is approximate, and packaged by weight. Seeds vary in size, weight is exact, and based upon empirical count, quantity is estimated. Liability of seller is limited to the cost of the item(s).
Zellajake Farm and Garden: "Seeds for all your planting needs" since 2013