---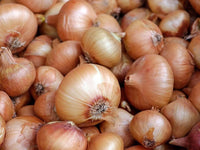 Free Shipping!
Item specifics
Seller Notes: Germination test date and results will be on packet.
Country/Region of Manufacture: United States
Brand: zellajake
"Walla Walla" onions (Allium cepa "Walla Walla") produce sweet mild-flavored bulbs reaching 2 to 4 inches in diameter with stalks growing up to 36 inches high. They are considered a long day onion variety, which means they need 14 to 15 hours of daylight to form bulbs. "Walla Walla" onions are suitable for container growing, which allows the plants to be moved in and out of shelter. Onions in containers grow well in areas that are not normally used for gardening.
How to plant:
Propagate by seed - To grow your own onion sets, sow seeds thickly in a block in midsummer. About 2 months after planting, roll down the tops, forcing the plants to form small bulbs. (Those about the size of a dime work best.) After tops dry, clip them off, leaving about ½ inch of stem. Cure and store in a cool, dry place as you would onions for eating. Plant your sets the following spring.
Germination temperature: 45 F to 95 F
Days to emergence: 4 to 10 days
Direct-seeding in the garden may not allow enough time for long-season varieties to mature, but is fine for shorter-season varieties or for scallions - onions harvested before the bulb forms.
Direct-seed in spring when the soil reaches 50 F. Plant seed ¼ - ½ inch deep, ½ inch apart, in rows 12 to 18 inches apart. Thin to 4-inch spacing for large bulbs, 2-inch spacing for smaller bulbs but higher yields, or 1-inch spacing for scallions.
Start transplants inside about 8 to 10 weeks before last frost date. Plant 4 or 5 seeds in each cell, or seed in flats ¼ inch deep and ½ inch apart. If tops grow too tall and begin to droop, trim back to about 3 inches tall with scissors. After hardening off, transplant 2 to 4 weeks before last frost date. Space 4 inches apart for large bulbs, 2 inches apart for smaller bulbs, or 1 inch apart for scallions.
Terms and conditions, READ THIS PLEASE: Orders over $14 from this ad will be shipped with tracking, Otherwise: Seeds will be shipped economy/standard or first class 2-10 day shipping (NO TRACKING and no planting instructions to keep seed costs to the buyer low), in a ziplock baggie. Our goal is to save you money on quality seeds. We are responsible sellers, and we make sure our buyers are well taken care of. Shipped within 2 business days after payment. We are a seller that caters to experienced gardeners. (germination and plant care information is readily available online, but if you can't find germinating and care instructions, please feel free to message us). Most of our listings include germination instructions, so we do not ship growing instructions. Multiple orders of a single item will be combined into 1 ziplock. We are not responsible for buyer germination success, seeds have been tested. Seed count is approximate, and packaged by weight. Seeds vary in size, weight is exact, and based upon empirical count, quantity is estimated. Liability of seller is limited to the cost of the item(s).
Zellajake Farm and Garden: "Seeds for all your planting needs" since 2013