---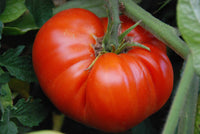 From the rare to the most commonly grown, this tomato seed collection will fill your need for seeds!
Tomato Beefsteak 200
Tomato Brandywine Yellow 50
Tomato Cherry Large Red 80
Tomato Floridade 100
Tomato Homestead 100
Tomato Marglobe 50
Tomato Pear Yellow 100
Tomato Rutger's 300
Tomato Sunray 50
Tomato White Wonder 50
Tomato Wisconsin 55 30
Tomato Giant Belgium Pink 20
Tomato Old German 50
Tomato Italian Roma 50
6-8 weeks before last frost:
Fill 4" pots with potting mix to within a 1/2-inch of the top and place a pair of seeds on top of the soil in each one near the center of the pot (having two is good insurance in case one doesn't sprout. Pinch off the smaller, weaker of the two if they both sprout).
Cover them with a ¼-inch layer of soil mix and the compress the soil with your fingers. Good seed-to-soil contact is important for germination.
Sprinkle water on the seeds whenever the top of the soil mix appears dry. Don't keep the soil soggy, however — the seeds may rot.
Terms and conditions, READ THIS PLEASE: Orders over $14 from this ad will be shipped with tracking, Otherwise: Seeds will be shipped economy/standard or first class 2-10 day shipping (NO TRACKING and no planting instructions to keep seed costs to the buyer low), in a ziplock baggie. Our goal is to save you money on quality seeds. We are responsible sellers, and we make sure our buyers are well taken care of. Shipped within 2 business days after payment. We are a seller that caters to experienced gardeners, or those that are capable of looking up instructions independently (germination and plant care information is readily available online, but if you can't find germinating and care instructions, please feel free to message us). We do not include growing instructions. Multiple orders of a single item will be combined into 1 ziplock. We are not responsible for buyer germination success, seeds have been tested. Seed count is approximate, and packaged by weight. Seeds vary in size, weight is exact, and based upon empirical count, quantity is estimated. Liability of seller is limited to the cost of the item(s).