---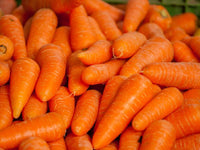 Always Free Shipping!!
Item specifics
Seller Notes: Germination test date and results will be on packet.
Climate: Cold, Sub-tropical, Temperate
USDA Hardiness Zone (°F): 4 (-30 to -20 °F)
Soil Type:bLoam
Country/Region of Manufacture: United States
Watering: Medium
Tendersweet Carrots are one of the sweetest carrots available!
The deep orange roots of Tendersweet are top quality, great tasting and super for cooking! Easy to grow and care for!
Average: 75 days
Planting instructions:
Plant in spring, 2 to 3 weeks before last frost, ½ inch deep, ½ inch apart, in rows 12 to 24 inches apart. Deeply worked soil with fine, weed-free seedbed will greatly improve chances of successful crop.
Carrots are slow to germinate (1 to 3 weeks), and often germinate unevenly over a period of several weeks. To speed germination, water lightly daily if soil is dry.
Thinning is critical to reduce competition from neighboring plants. Thin to 1- to 4-inch spacings (depending on size of root desired) before plants are 2 inches tall. Cutting rather than pulling reduces disturbance of the remaining plants.
To improve germination in dry weather: Make a small furrow, about 2 inches deep. Plant seed and cover with about ½ inch of soil. Cover furrow with a board to retain soil moisture until seeds germinate.
Tip: Sow radishes in the same row. They germinate quickly, break the soil crust, and mark the row. Thin and/or harvest radishes before they compete with carrots.
Use seed tape or pelleted seed for more even spacings and less thinning. Or mix seed in roughly equal proportions with sand, fine vermiculite, or dried coffee grounds.
Mulch to keep soil cool, conserve moisture and to keep exposed "shoulders" from turning green and bitter. Another option is to hill soil over the shoulders.
Make additional plantings every three weeks through midsummer for continuous supply and fall harvest. Sowing in very early spring is possible, but some varieties will bolt if temperatures are too cold. Plant crops for fall harvest about 10 to 12 weeks before first frost.
Root quality is best when soil temperatures are 60 F to 70 F. The shape of the root is determined within the first few weeks after germination when the new plant extends its taproot deep into the soil. If it encounters obstacles (such as rocks or high water table) or is damaged, shape and quality of the root will suffer.
To prevent diseases, don't plant carrots in the same spot more than once every 3 years.
HARVESTING
Begin harvesting carrots when they turn bright orange (normally 60 to 80 days after planting, depending on the variety).
Because all sizes of carrots are edible they can be harvested over a long period of time. One of the main benefits of growing carrots is that they will remain fresh in the soil for many months, even after the tops have been killed by frost. If your garden soil is well drained you can keep carrots in the ground and covered with leaves or straw until the soil begins to freeze.
Picking a small amount of carrots for a family meal can be done with a small hand trowel being careful to stay far enough away from the plant as to avoid damaging the carrot itself. Harvesting carrots on a larger scale can be done by using a pitchfork or shovel and dig alongside the row. Be careful not to stab or cut the roots of the carrot. Pull the tops up and shake the soil off the roots. Storing carrots is easily done and if done properly they will stay fresh up to 3 to 4 months. Simply wash off all excess soil and place them in airtight containers or plastic bags.
Terms and conditions, READ THIS PLEASE: Orders over $14 from this ad will be shipped with tracking, Otherwise: Seeds will be shipped economy/standard or first class 2-10 day shipping (NO TRACKING and no planting instructions to keep seed costs to the buyer low), in a ziplock baggie. Our goal is to save you money on quality seeds. We are responsible sellers, and we make sure our buyers are well taken care of. Shipped within 2 business days after payment. We are a seller that caters to experienced gardeners. (germination and plant care information is readily available online, but if you can't find germinating and care instructions, please feel free to message us). Most of our listings include germination instructions, so we do not ship growing instructions. Multiple orders of a single item will be combined into 1 ziplock. We are not responsible for buyer germination success, seeds have been tested. Seed count is approximate, and packaged by weight. Seeds vary in size, weight is exact, and based upon empirical count, quantity is estimated. Liability of seller is limited to the cost of the item(s).
Zellajake Farm and Garden: "Seeds for all your planting needs" since 2013