---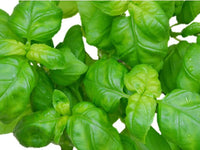 Sweet Basil
Type: warm season annual
Planting time: after last spring frost
Simply buy two orders and we will ship 3 orders in one packet.
Germination test date and results will be on packet.
Features: large, aromatic leaves
Light: full sun to part shade
Soil: fertile, well drained but moist
Spacing: 18 inches
Plant Size: 24 to 30 inches tall, 18 inches wide
Garden use: containers, herb beds, flower beds
Culinary use: Asian and Italian dishes
This herb is known around the world for its wonderful fragrance and flavor. The key ingredient in classic Italian pesto, Sweet Basil has big leaves that are fast and easy to grow so that you can make your own pesto to freeze for year-round use. It loves hot weather, so always wait until all danger of frost is past before planting in the garden in the spring, then harvest before the weather starts to cool down in fall. Great for containers, but be sure to keep watered. If you were to grow only one herb, this should probably be it. Dried basil just doesn't have the aromatic quality of the fresh leaves, which are often added at the last minute to many Asian dishes.
Terms and conditions, READ THIS PLEASE: Orders over $14 from this ad will be shipped with tracking, Otherwise: Seeds will be shipped economy/standard or first class 2-10 day shipping (NO TRACKING and no planting instructions to keep seed costs to the buyer low), in a ziplock baggie. Our goal is to save you money on quality seeds. We are responsible sellers, and we make sure our buyers are well taken care of. Shipped within 2 business days after payment. We are a seller that caters to experienced gardeners. (germination and plant care information is readily available online, but if you can't find germinating and care instructions, please feel free to message us). Most of our listings include germination instructions, so we do not ship growing instructions. Multiple orders of a single item will be combined into 1 ziplock. We are not responsible for buyer germination success, seeds have been tested. Seed count is approximate, and packaged by weight. Seeds vary in size, weight is exact, and based upon empirical count, quantity is estimated. Liability of seller is limited to the cost of the item(s).
Zellajake Farm and Garden: "Seeds for all your planting needs" since 2013