---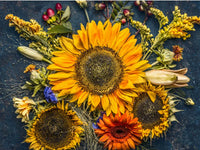 Always Free Shipping!
Item specifics
Country/Region of Manufacture: United States
Brand: zellajake
Germination test date and results will be on packet.
The "Autumn Beauty" name comes from the flower's beautiful fall colors!
This ornamental sunflower produces flowers 5 to 10 inches in diameter, with dark centers and petals in multiple hues, reminiscent of fall. Flower colors in the mix include yellows and golds, oranges and rust colors, as well as reds, burgundies and bi-colored flowers. "Autumn Beauty" sunflower starts blooming in mid to late summer and continues through fall.
Some garden sunflower varieties produce stalks up to 10 feet tall, requiring a large garden bed. "Autumn Beauty" is slightly smaller, making it better for yards where space is an issue. This plant grows on stalks 4 to 7 feet tall with five to six flowers per stalk. "Autumn Beauty" is an ornamental sunflower and not suitable for culinary uses. This plant will attract bees and hummingbirds to your garden. "Autumn Beauty" makes a suitable statement or backdrop plant. You can also cut the flowers for use in vases or bouquets.
For the "Autumn Beauty" sunflower to thrive, soil temperatures need to be between 55 and 60 degrees Fahrenheit with daytime air temperatures reaching 69 to 75 F. These plants require loose soil, prepared with a light application of fertilizer or compost before planting. Amending the soil helps foster a strong root system. Plant the seeds 1/2 inch deep and 6 inches apart. Germination of "Autumn Beauty" usually occurs within 10 to 15 days, at which point you should thin the plants, so there's 18 inches of space between each seedling. Make sure your plants are sheltered from the wind, either on the side of a fence or structure, to prevent your flowers from toppling in strong gusts.
Terms and conditions, READ THIS PLEASE: Orders over $14 from this ad will be shipped with tracking, Otherwise: Seeds will be shipped economy/standard or first class 2-10 day shipping (NO TRACKING and no planting instructions to keep seed costs to the buyer low), in a ziplock baggie. Our goal is to save you money on quality seeds. We are responsible sellers, and we make sure our buyers are well taken care of. Shipped within 2 business days after payment. We are a seller that caters to experienced gardeners. (germination and plant care information is readily available online, but if you can't find germinating and care instructions, please feel free to message us). Most of our listings include germination instructions, so we do not ship growing instructions. Multiple orders of a single item will be combined into 1 ziplock. We are not responsible for buyer germination success, seeds have been tested. Seed count is approximate, and packaged by weight. Seeds vary in size, weight is exact, and based upon empirical count, quantity is estimated. Liability of seller is limited to the cost of the item(s).
Zellajake Farm and Garden: "Seeds for all your planting needs" since 2013