---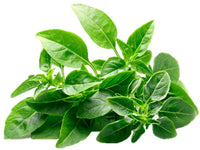 Always Free Shipping!!
Item specifics
Seller Notes: Germination test date and results will be on packet.
Country/Region of Manufacture: United States Climate: Temperate
Brand: zellajake
A compact, soft-stemmed plant that reaches a maximum growth of only 6-to-12 inches, globe basil (Ocimum basilicum "Spicy Globe") provides a spicy flavor to salads, herb vinegar, pasta and pesto. A tender plant that doesn't tolerate frost, globe basil is usually grown as an annual. However, the plant is suitable for growing year-round in the mild climates of U.S. Department of Agriculture plant hardiness zones 9 through 11.
Plant basil seeds directly in the garden in the springtime after all threat of frost has passed and daytime temperatures are consistently above 50 degrees Fahrenheit. Before planting, dig the soil to a depth of 6-to-8 inches and then dig in 4-to-6 inches of compost into the soil. Make a shallow furrow with the tip of a hoe and sprinkle the seeds in the row. Cover the seeds lightly with no more than 1/8 inch of soil. Don't worry about spacing because you can thin the seedlings later. Basil prefers full sun and acidic soil with a pH between 5.5 and 6.5. Water the seeded area lightly, using a hose with a fine spray nozzle to prevent washing the seeds from the soil. Keep the soil slightly moist until the seeds germinate. Thereafter, provide about 1 1/2 inches of water per week throughout the growing season. Spread 1-to-2 inches of mulch around the plant to control weeds and keep the roots moist and cool. Use a natural mulch such as dry grass clippings or shredded bark. Thin the plants to a distance of 3-to-4 inches after the seeds germinate. Thin the basil again when the plants are 3-to-4 inches tall and have several small leaves. This time, remove the weaker plants and leave the strongest to create a distance of 8-to-12 inches between each plant. Withhold fertilizer if your soil is good and you added compost at planting time. As a general rule, basil tastes better and contains more fragrant oils when no fertilizer is applied. If your soil is poor, water the plants with a weak fertilizer solution once a month. Use a general-purpose, water-soluble fertilizer mixed at a rate of 1-to-2 tablespoons in 1 gallon of water. Begin harvesting when the plants have six-to-eight leaves -- before blooms form. Don't allow the plant to flower because blooming diminishes flavor. If you leave two-to-four leaves on the plant each time you harvest, the basil will continue to produce until the first frost. Cut the plant using scissors or a sharp knife, making each cut about 1/4 inch above a leaf.
Terms and conditions, READ THIS PLEASE: Orders over $14 from this ad will be shipped with tracking, Otherwise: Seeds will be shipped economy/standard or first class 2-10 day shipping (NO TRACKING and no planting instructions to keep seed costs to the buyer low), in a ziplock baggie. Our goal is to save you money on quality seeds. We are responsible sellers, and we make sure our buyers are well taken care of. Shipped within 2 business days after payment. We are a seller that caters to experienced gardeners. (germination and plant care information is readily available online, but if you can't find germinating and care instructions, please feel free to message us). Most of our listings include germination instructions, so we do not ship growing instructions. Multiple orders of a single item will be combined into 1 ziplock. We are not responsible for buyer germination success, seeds have been tested. Seed count is approximate, and packaged by weight. Seeds vary in size, weight is exact, and based upon empirical count, quantity is estimated. Liability of seller is limited to the cost of the item(s).
Zellajake Farm and Garden: "Seeds for all your planting needs" since 2013