---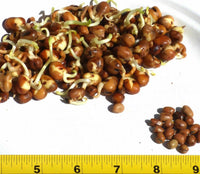 Small Fava Bean Sprouting Microgreen Seeds (vicia faba)
These are much smaller bean seeds than their counterparts, Broad Windsor Fava beans, which makes these pea-sized beans perfect for microgreens and sprouting.
Crunchy, nutty and substantial in size, these sprouted beans offer flavor and fiber to your salads. Sprout small bean favas the same way that you would sprout peas or other medium size beans.
Sprouting:
Soak seeds for 10-12 hours. Empty water and rinse. Rinse and Drain again in 8 hours. Then rinse and Drain every 8 hours until the sprouts are the size that you desire.
Most of the seeds will have sprouted tiny (1/4 - 1/2 inch) roots after 3-5 days. After 6 days, leaves start to emerge.