---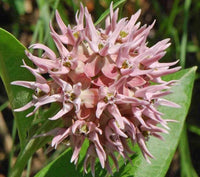 Always Free Shipping!!
Item specifics
Seller Notes: Germination test date and results will be on packet.
Climate: Temperate
Country/Region of Manufacture: United States
USDA Hardiness Zone (°F): 3-10
Brand: zellajake
Watering: normal
Showy Milkweed (Asclepias Speciosa) - Showy Milkweed is a perennial plant that can be easily established by sowing Milkweed seeds. It has up to 36 inch stems and large gray-green oval leaves that can be 5 inches in length. Asclepias Speciosa flowers form on top of the stems and are rounded clusters of rosy-pink flowers. One plant of Showy Milkweed can form a large clump by its spreading rhizomes. The Showy Milkweed plant, like its relative Butterfly Weed, prefers to be grown in full sun. It is quite drought tolerant after its second year of establishment as the root system is not well-established the first year after being sown from flower seed.
Showy Milkweed Asclepias Speciosa is an ornamental native wildflower. It's perfect for home landscaping and use in the butterfly garden or prairie meadow, and it attracts hummingbirds as well. People have also used milkweed for fiber, food, and medicine all over the United States and southern Canada. Milkweeds (especially Asclepias speciosa) supply tough fibers for making cords and ropes, and for weaving a coarse cloth. Milkweed is a very versatile plant that is easily grown from flower seeds!
The plant contains cardiac glycosides, allied to digitalins used in treating some heart disease; however, this plant should not be eaten by humans or livestock.
Growing Showy Milkweed from flower seed is very rewarding. It is appropriate to sow Showy Milkweed seeds outdoors after the frosts of fall have begun. If planting seeds in spring, milkweed species planted in North America need a cold moist stratification to encourage spring germination. Cold moist stratification is a technique used to simulate the real-world conditions a seed would receive outdoors after the frozen winter gives way to a warm, wet spring.
Season: Perennial
USDA Zones: 2 - 9
Height: 40 inches
Bloom Season: June - August
Bloom Color: Purple-Pink
Environment: Full sun
Soil Type: Tolerant of poor, dry soils, pH 5.8 - 7.2
Planting Instructions
Temperature: 68F
Average Germ Time: 21 - 28 days
Light Required: Yes
Depth: Surface sow seed, do not cover
Sowing Rate: 3 - 4 seeds per plant
Moisture: Keep seeds moist until germination
Plant Spacing: 36 inches
"Seeds for all your planting needs" since 2013