---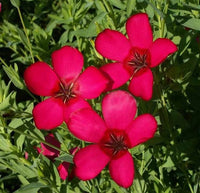 Always Free Shipping!!
Item specifics
Seller Notes: Germination test date and results will be on packet.
Country/Region of Manufacture: United States Climate: Sub-tropical, Temperate
Brand: zellajake
What an outstanding profusion of color grown from Scarlet Flax seeds! Scarlet Flax wild flower is a hardy annual, native to northern Africa and Southern Europe, and it has naturalized throughout the United States. Once established this variety can tolerate immense heat and extremely dry conditions though it will need watering at the height of summer. Seedlings need moderate watering to get started, although spring rainfalls are usually sufficient. Scarlet Flax flowers are glossy, deep scarlet red, and they bloom in profusion and are best admired if planted densely. Linum Rubrum Scarlet Flax prefers full sun in well-drained soils. It often re-seeds and will be back the next spring!
Flax wildflower seeds glisten because of their high oil content, flax being the source of linseed oil with which linoleum is manufactured. L. usitatissum is the species grown commercially for linseed oil, but it can also be obtained from L. grandiflorum and other flaxes.
Sow Scarlet Flax seeds directly outdoors in prepared soil in the spring when temperatures are warming. Lightly rake soil over the top of the Linum seeds. Keep Scarlet Flax wildflower seed moist until germination.
Terms and conditions, READ THIS PLEASE: Orders over $14 from this ad will be shipped with tracking, Otherwise: Seeds will be shipped economy/standard or first class 2-10 day shipping (NO TRACKING and no planting instructions to keep seed costs to the buyer low), in a ziplock baggie. Our goal is to save you money on quality seeds. We are responsible sellers, and we make sure our buyers are well taken care of. Shipped within 2 business days after payment. We are a seller that caters to experienced gardeners. (germination and plant care information is readily available online, but if you can't find germinating and care instructions, please feel free to message us). Most of our listings include germination instructions, so we do not ship growing instructions. Multiple orders of a single item will be combined into 1 ziplock. We are not responsible for buyer germination success, seeds have been tested. Seed count is approximate, and packaged by weight. Seeds vary in size, weight is exact, and based upon empirical count, quantity is estimated. Liability of seller is limited to the cost of the item(s).
Zellajake Farm and Garden: "Seeds for all your planting needs" since 2013