---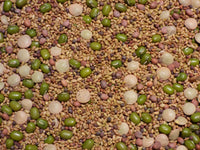 Always Free Shipping!
Item specifics
Seller Notes: Germination test date and results will be on packet.
Country/Region of Manufacture: United States
Climate: Sub-tropical, Temperate
Brand: zellajake
This is a super flavorful combination of 5 varieties of nutritious sprouting seeds!
Radish, Broccoli, Green Lentil, Mung and Alfalfa mixed together for a perfect salad mix. This is a very popular sprouting mix. Sprouts are easy and fun to grow and very healthy.
Alfalfa: One of the most popular and nutritious sprouters. Nutty flavor. Packed with protein, essential amino acids, 8 digestive enzymes, vitamins A, B, B12, D, E, K and C; iron, phosphorous, calcium magnesium and potassium.
Broccoli: High in Fiber, low calorie, high in vitamins A and C; calcium, potassium, and has high sulforpane content. Great flavor.
Lentil: Lots of fiber, protein, amino acids, vitamins A, C, E, and B; iron calcium, and phosphorous.
Mung Bean: High content of choline, protein, amino acids, vitamins A, B, C, and E; calcium, magnesium, potassium, and phosporous. Trace elements: zinc, chromium, iron.
Radish: High in vitamins A, B-1, B-6, and C; folic acid, pantothenic acids, niacin, potassium, iron, and phosphorous.
All orders from this ad over 1000 seeds will have tracking!
Amounts of sprouts produced ROUGHLY, per quantity of seeds, results will vary depending on sprouting technique and desired sprout size:
500 seeds- < 1/8 cup
1000 seeds- < 1/4 cup
2000 seeds- < 1/2 cup
4000 seeds- 2/3cup
8000 seeds- 1.5 cups
16,000 seeds- 3 cups
32,000 seeds- 6 cups
64,000 seeds- 12 cups
128,000 seeds- 24 cups
Sprouting instructions, this is not the only way to do sprouts, everyone will acquire their own sprouting techniques, but here are the basics:
Set your sprouter anywhere out of direct sunlight and at room temperature (70° is optimal) between Rinses. This is where your sprouts do their growing. A counter top or top of a refrigerator is - or in the corner of your kitchen, but where the sprouter won't get knocked over by cats, dogs, kids or us.

Sprouts don't mind the indirect sunlight or the 150 watts of incandescent light, because light just does not matter much. Your Bean Sprouts will never have leaves, and a plant can only perform photosynthesis when it has leaves. Until then light has little if any effect, so don't hide your sprouts. Plus, they like air-circulation.

Rinse and Drain again in 8-12 hours. And, once more... Rinse and Drain again in 8-12 hours. And, perhaps once more... Rinse and Drain in 8-12 hours.
Stop no later than here if you like small sprouts. In this case, for just 2-4 Rinse and Drain cycles. At that point most of the seeds will have sprouted tiny (1/16 - 1/4 inch) roots

Depending on your climate and the time of year you are sprouting and most importantly your personal preference - You may Rinse and Drain again at 8-12 hour intervals for up to 6 days. We Do Not recommend doing so, unless you're doing a science experiment. Grow them for as long as you like. As long as you continue to Rinse and Drain every 8-12 hours. If you grow for a week you'll get some plants growing as well as roots. Experiment! Have Fun! It's All Good - if occasionally inedible, lol.

We suggest that you taste your crop at EVERY Rinse - including the very first - just after the Soak period. The soaked seeds are already alive and super nutritious - and - they are without enzyme inhibitors (a very good thing indeed!) so they'll digest themselves and nourish you. So taste them often and find out for yourself when they are most delicious! That's when they're done.

Harvest Time! Your sprouts are done 8-12 hours after your final Rinse. Be sure to drain them as thoroughly as possible after that final Rinse. The goal during the final 8-12 hours is to minimize the surface moisture of your sprouts - they will store best in your refrigerator if they are dry to the touch.

Refrigerate! Transfer your sprout crop to a plastic bag or the sealed container of your choice and put them in your refrigerator once they have reached your personal optimum growth.
Terms and conditions, READ THIS PLEASE: Orders over $14 from this ad will be shipped with tracking, Otherwise: Seeds will be shipped economy/standard or first class 2-10 day shipping (NO TRACKING and no planting instructions to keep seed costs to the buyer low), in a ziplock baggie. Our goal is to save you money on quality seeds. We are responsible sellers, and we make sure our buyers are well taken care of. Shipped within 2 business days after payment. We are a seller that caters to experienced gardeners. (germination and plant care information is readily available online, but if you can't find germinating and care instructions, please feel free to message us). Most of our listings include germination instructions, so we do not ship growing instructions. Multiple orders of a single item will be combined into 1 ziplock. We are not responsible for buyer germination success, seeds have been tested. Seed count is approximate, and packaged by weight. Seeds vary in size, weight is exact, and based upon empirical count, quantity is estimated. Liability of seller is limited to the cost of the item(s).
Zellajake Farm and Garden: "Seeds for all your planting needs" since 2013