---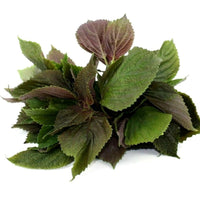 Purple Shiso Perilla Seeds
Shiso, otherwise known as perilla, beefsteak plant, Chinese basil and purple mint, is a member of the Lamiaceae or mint family.
Please place all desired items in cart before purchasing. Thanks for shopping with us! J
For centuries, growing perilla mint, or shiso, has been cultivated in China, India, Japan, Korea, Thailand, and other Asian countries. Note that hese mint plants are quite toxic to cattle and other livestock. Prized in Asian countries not only for its culinary uses, the oil extracted from these mint plants is also utilized as a valuable fuel source, while the leaves themselves are used medicinally and as a food coloring. The seeds from the perilla beefsteak plant are also eaten by people and as bird food. Perilla mint plants (Perilla frutescens) may also be grown as ornamentals due to their erect habitat and green or purplish-green to red serrated leaves. Growing perilla mint also has a distinctive minty aroma, especially when mature.
To ensure that most of your shiso seeds germinate, refrigerate for 2 weeks and then soak them in water for 24 hours before seeding. To sew those soaked seeds, I just pour them on the seed bed water and all (surface sow). This way the seeds should germinate in 4-7 days or so. You can sow shiso indoors to give them a start.