---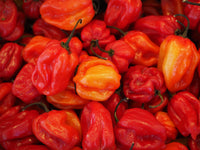 Always Free Shipping!
Perfectly Spicy Red Habanero seeds!
This heirloom originated in the Amazon region 8500 years ago. Now, that's an heirloom! At an average of 250,000 scovilles, this is the quintessential Mexican and Texmex pepper. The habanero also has a very distinctive flavor that is perfect for making hot sauce. Even superhot pepperheads have to indulge in habanero goodness on occasion.
Habaneros thrive in hot weather. As with all peppers, the habanero does well in an area with good morning sun. The habanero should be watered only when dry. Overly moist soil and roots will produce bitter-tasting peppers.
The habanero is a perennial plant, meaning that with proper care and growing conditions, it can produce flowers (and thus fruit) for many years (in our experience in central FL, 3 years is the longest lasting plant thus far, with the second year nearly always being the most productive). Habanero bushes are good candidates for a container garden. In temperate climates, though, it is treated as an annual, dying each winter and being replaced the next spring. In tropical and subtropical regions, the habanero, like other chiles, will produce year round. As long as conditions are favorable, the plant will set fruit continuously.
You will want to start from seed 8-10 weeks before the last expected frost. The earlier you start the more of a chance of success because your plants will be stronger and you will have more time to start more seeds if some do not survive. Place 2-3 seeds in plugs or a seed tray, and top with a tiny amount of compost or seedling soil. Water the soil. Follow the seed packet for optimal planting depth. Keeping the soil moist is crucial until the seeds germinate. Seed trays work great for this because the lids hold in the moisture and watering is typically not needed. Keep the seeds in a dark place with a small amount of filtered light until sprouts appear. Then remove the lid and place them on a south-facing window sill. Regular watering will be necessary now however you will want the soil to dry out for a full day between waterings. Occasionally turn the tray so that the habanero plants grow upright. They will lean toward the sun. After 2 leaves have fully developed, snip off all but the strongest seedling in each tray. After 6-8 leaves form, it will be necessary to separate and repot into a larger pot. This is a good time to start fertilizing the seedlings as well.
Place fresh soil or compost into a slightly larger pot no wider than 3 inches. Move the seedling and it's soil to the new pot. It may be necessary to do this again to a larger pot depending on your planting time. You will know you need to go to a larger pot if it grows too tall and starts to fall over. Each time you pot on be sure the next pot is taller and wider than the previous. Plant the seedling to where the soil is nearly up to the leaves.
Once there is no worry of frost, you can plant your habanero pepper plants to your garden or chosen spot. The best time is 2-3 weeks after the last frost when the soil temperature is 60 degrees. You should harden off the seedlings for one week prior to transplanting. Place the seedlings outdoors in a protected area with no direct sunlight for an hour on the first day. Each day increase the amount of time the plant is outside.
Terms and conditions, READ THIS PLEASE: Orders over $14 from this ad will be shipped with tracking, Otherwise: Seeds will be shipped economy/standard or first class 2-10 day shipping (NO TRACKING and no planting instructions to keep seed costs to the buyer low), in a ziplock baggie. Our goal is to save you money on quality seeds. We are responsible sellers, and we make sure our buyers are well taken care of. Shipped within 2 business days after payment. We are a seller that caters to experienced gardeners. (germination and plant care information is readily available online, but if you can't find germinating and care instructions, please feel free to message us). Most of our listings include germination instructions, so we do not ship growing instructions. Multiple orders of a single item will be combined into 1 ziplock. We are not responsible for buyer germination success, seeds have been tested. Seed count is approximate, and packaged by weight. Seeds vary in size, weight is exact, and based upon empirical count, quantity is estimated. Liability of seller is limited to the cost of the item(s).
Zellajake Farm and Garden: "Seeds for all your planting needs" since 2013