---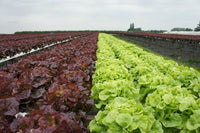 Always Free Shipping!!
Item specifics
Seller Notes: Germination test date and results will be on packet.
Country/Region of Manufacture: United States Climate: Temperate
Brand: zellajake
Deer's Tongue lettuce is cultivated year round with a peak season in early spring.
Deer's Tongue lettuce, AKA Matchless lettuce, is an heirloom variety known for its hardiness, cold and heat tolerance and its resistance to bolt in summer months. Deer's Tongue lettuce should not be confused with Amish Deer's Tongue lettuce, which was first cultivated a century later than Deer's Tongue.
Deer's Tongue lettuce grows in a tight formation with a connected base, its narrow pointed triangular leaves growing outward and upward wrapping themselves around each other to form a very distinct rosette of lettuce. Though the outer leaves are tender with a mild flavor, the white inner ribs are less palatable, though crunchy, often slightly bitter. Young Deer's Tongue lettuce is milder than its mature counterpart.
Terms and conditions, READ THIS PLEASE: Orders over $14 from this ad will be shipped with tracking, Otherwise: Seeds will be shipped economy/standard or first class 2-10 day shipping (NO TRACKING and no planting instructions to keep seed costs to the buyer low), in a ziplock baggie. Our goal is to save you money on quality seeds. We are responsible sellers, and we make sure our buyers are well taken care of. Shipped within 2 business days after payment. We are a seller that caters to experienced gardeners. (germination and plant care information is readily available online, but if you can't find germinating and care instructions, please feel free to message us). Most of our listings include germination instructions, so we do not ship growing instructions. Multiple orders of a single item will be combined into 1 ziplock. We are not responsible for buyer germination success, seeds have been tested. Seed count is approximate, and packaged by weight. Seeds vary in size, weight is exact, and based upon empirical count, quantity is estimated. Liability of seller is limited to the cost of the item(s).
Zellajake Farm and Garden: "Seeds for all your planting needs" since 2013