---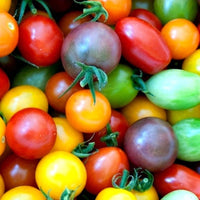 Rainbow Cherry Tomato Seed Mix
A bright and colorful mix of cherry tomato varieties.
Please place all desired items in cart before purchasing. Thanks for shopping with us! J
A conversation piece in any garden! This open pollinated customized mix of colorful cherry tomatoes comes in a wide array of colors from gold, orange, light cream white, yellow, pink, green, purple, and red and some dual colors. Large yields of ¾ to 1 oz cherry tomatoes from indeterminate plants. Perfect choice for home gardens, especially if the kids are currently lacking interest in vegetables.
Fill starting containers with dampened seed starting mix. Tamp down mix to get air out. Plant your seeds a maximum of 1/4 inch deep. Then tamp down mix again lightly. Dampen soil mix thoroughly with a gentle drizzling of water. If temperature is kept consistently and sufficiently warm, your tomato seeds will usually germinate within 5 to 10 days. Best to keep temperature range 70 to 80F.