---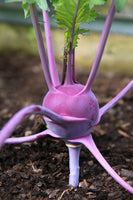 Purple Vienna Kohlrabi Seeds
Annual Heirloom. Kohlrabi is a little known yet delightful vegetable with mild broccoli-like flavor.
Please place all desired items in cart before purchasing. Thanks for shopping with us! J
Texture is of a juicy radish. Can be eaten raw, pickled, or cooked. Purple Vienna is a productive variety that dates back to the 1860's. Interesting tidbit In German, "kohl" means cabbage and "rabi" means turnip. Rich in potassium and vitamin C.
Soil Temperature: 50-75°F
Planting Depth: 1/4"-1/2"
Germination: 7-10 Days
Height At Maturity: 6"-12"
Days To Maturity: 55-65 Days
Sun/Shade: Full Sun
Spacing After Thinning: 6-8"
Microgreens growing instructions:
Cover the bottom of the container with an inch or two of moistened potting soil/mix or coir. Flatten and level it with your hand or a small piece of cardboard, taking care not to over-compress the soil. Scatter seeds evenly on top of the soil. Press gently into the soil using your hand or the cardboard. Cover the seeds with a thin layer of soil. Dampen the surface with a mister. If you prefer, you can skip this step and instead cover the container with a clear lid or plastic wrap until the seeds are sprouted. While waiting for sprouts to appear, usually within three to seven days, use the mister once or twice daily to keep the soil moist but not wet. Once seeds have sprouted, remove the cover (if you've used one) and continue to mist once or twice a day. Microgreens need about four hours daily of direct sunlight to thrive (south facing window). In winter months, some may need even more. Leggy, pale greens are a sign of not enough sunlight. Light needs can also be satisfied with a grow light that has a low heat output — you don't want to scorch your delicate greens. Microgreens will be ready to harvest about two to three weeks after planting. Look for the first set of "true leaves" as a sign of readiness. Then grab your scissors and snip the greens just above the soil line. To serve, wash the microgreens with water and dry with paper towels or a salad spinner. Harvest and serve them immediately for the freshest flavor, and add to soups, salads, sandwiches or main dishes. Store remaining cut microgreens in a plastic bag in your refrigerator.
Sprouting instructions, this is not the only way to do sprouts, everyone will acquire their own sprouting techniques, but here are the basics:
Set your sprouter anywhere out of direct sunlight and at room temperature (70° is optimal) between Rinses. This is where your sprouts do their growing. A counter top or top of a refrigerator is perfect.
Sprouts don't mind the indirect sunlight or the 150 watts of incandescent light, because light just does not matter much. Your sprouts will never have leaves, and a plant can only perform photosynthesis when it has leaves. Until then light has little if any effect, so don't hide your sprouts. Plus, they like air-circulation.First, soak seeds for 3-4 hours. Empty water and rinse. Rinse and Drain again in 8 hours. Then rinse and drain every 8 hours until the sprouts are the size that you desire. Most of the seeds will have sprouted tiny (1/16 - 1/4 inch) roots after 2 or 3 days. After 4-6 days, leaves start to emerge. Depending on your climate and the time of year you are sprouting and most importantly your personal preference - You may Rinse and Drain again at 8 hour intervals for up to 65 days, but usually not longer. Grow them for as long as you like. As long as you continue to Rinse and drain systematically. If you grow for a week you'll get some plants growing as well as roots. Experiment! Have Fun! It's All Good - if occasionally inedible, lol.
We suggest that you taste your crop at EVERY Rinse - including the very first - just after the Soak period. The soaked seeds are already alive and super nutritious - and - they are without enzyme inhibitors (a very good thing indeed!) so they'll digest themselves and nourish you. So taste them often and find out for yourself when they are most delicious! That's when they're done. Harvest Time! Your sprouts are done 8-12 hours after your final Rinse. Be sure to drain them as thoroughly as possible after that final Rinse. The goal during the final 8-12 hours is to minimize the surface moisture of your sprouts - they will store best in your refrigerator if they are dry to the touch. Refrigerate! Transfer your sprout crop to a plastic bag or the sealed container of your choice and put them in your refrigerator once they have reached your personal optimum growth.
Terms and conditions, READ THIS PLEASE: Orders over $14 from this ad will be shipped with tracking, Otherwise: Seeds will be shipped economy/standard or first class 2-10 day shipping (NO TRACKING and no planting instructions to keep seed costs to the buyer low), in a ziplock baggie. Our goal is to save you money on quality seeds. We are responsible sellers, and we make sure our buyers are well taken care of. Shipped within 2 business days after payment. We are a seller that caters to experienced gardeners. (germination and plant care information is readily available online, but if you can't find germinating and care instructions, please feel free to message us). Most of our listings include germination instructions, so we do not ship growing instructions. Multiple orders of a single item will be combined into 1 ziplock. We are not responsible for buyer germination success, seeds have been tested. Seed count is approximate, and packaged by weight. Seeds vary in size, weight is exact, and based upon empirical count, quantity is estimated. Liability of seller is limited to the cost of the item(s).
Zellajake Farm and Garden: "Seeds for all your planting needs" since 2013