---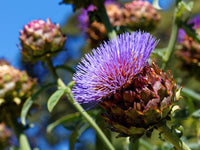 Always Free Shipping!!
Item specifics
Seller Notes: Germination test date and results will be on packet.
Season of Interest: Summer
Watering: Medium
Climate: Sub-tropical, Temperate
Soil pH: Neutral
Soil Type: Peat, Sand
Country/Region of Manufacture: United States
USDA Hardiness Zone (°F): 7 (0 to 10 °F)
Purple Romagna Artichoke Seeds!
The artichoke is a cultivated thistle grown for its edible flower buds, which are either green or purple and must be harvested before the flower begins to bloom. Plants are mostly perennial, although some types can be grown as annuals (particularly above zone 7) , and will reach 2–7′ tall with silvery to green leaves. Flower buds grow 3–6″ in diameter with spiny scales. Both the base of the bud and the fleshy lower half of each scale can be eaten. Plants will produce numerous buds, particularly if harvested regularly.
The Purple of Romagna artichoke is a half-hardy heirloom variety that tends to germinate quickly and produce lovely, tasty purple and/or green globes. If allowed to bloom, it'll present absolutely gorgeous lavender flowers, so if you have more artichokes than you can handle, we recommend leaving one or two to blossom. This variety is slightly more sensitive to cold than other varieties of artichoke, so be sure to keep them in temperatures of at last 60°F until they are mature.
Artichokes do best in cool weather and are usually planted indoors and transplanted outdoors. They grow best in humid areas where temperature remains below 50 F for a long period of time. Start seeds indoors 6 to 8 weeks before setting outdoors. Plants require 50 F to 70 F temperatures to induce budding. Spring planting should occur as soon as soil can be worked and after last frost, and fall planting done in September, October, and November for spring harvest. When seedlings are 2" to 4" tall, transplant them into larger pots so roots can grow properly. Protect the plants from frost. Plants become less productive in 5th and 6th year and new plants should be grown. Plants can grow 3 to 5 ft tall.
1/4 to 1/2"
70 F to 80 F
10 to 21 days
Full Sun
Spring/Fall
USDA Hardiness Zone 8-10
Seed Spacing 3 to 4"
Row Spacing 36-48"
Space After Thinning 24-36"
Terms and conditions, READ THIS PLEASE: Orders over $14 from this ad will be shipped with tracking, Otherwise: Seeds will be shipped economy/standard or first class 2-10 day shipping (NO TRACKING and no planting instructions to keep seed costs to the buyer low), in a ziplock baggie. Our goal is to save you money on quality seeds. We are responsible sellers, and we make sure our buyers are well taken care of. Shipped within 2 business days after payment. We are a seller that caters to experienced gardeners. (germination and plant care information is readily available online, but if you can't find germinating and care instructions, please feel free to message us). Most of our listings include germination instructions, so we do not ship growing instructions. Multiple orders of a single item will be combined into 1 ziplock. We are not responsible for buyer germination success, seeds have been tested. Seed count is approximate, and packaged by weight. Seeds vary in size, weight is exact, and based upon empirical count, quantity is estimated. Liability of seller is limited to the cost of the item(s).
Zellajake Farm and Garden: "Seeds for all your planting needs" since 2013