---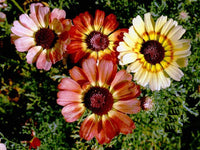 Buy 2 Orders Painted Daisy Seeds from this listing, Get 1 Order of Painted Daisy Seeds FREE.
Purchase 2 orders from this listing, and we will ship 3 orders total from this listing, multiple orders from this listing will be combined into one packet.
Germination test date and results will be on packet.
Growing painted daisies in the garden adds spring and summer color from a compact 1 ½ to 2 ½ foot plant. Painted daisy perennials are the perfect height for those hard to fill middle spots in the garden when early spring blooms are dying back. Painted daisy care is simple when they're planted in the right soil and location. Growing painted daisies is a good way to keep harmful pests out of the garden too.
Start from seeds 4 to 6 weeks before your last frost date or by division of existing plants in early spring or fall. Allow room for plants to spread from 18 to 24 inches.
Painted daisy care includes pinching back in spring when stems are 6 to 8 inches tall, promoting bushiness and a fuller plant. As summer blooms fade, cut the plant back for more blooms in autumn to help protect fall garden crops.
As you become more confident with growing painted daisy perennials, you'll find yourself growing painted daisies in new areas of the garden to protect other plants as well.
Flower Specifications
Season: Annual
USDA Zones: 3 - 10
Height: 18 - 36 inches
Bloom Season: Summer and fall
Bloom Color: Mix
Environment: Full sun
Soil Type: Well-drained, pH 5.2 - 7.0
Deer Resistant: Yes
Planting Directions
Temperature: 68F
Average Germ Time: 14 - 28 days
Light Required: Yes
Depth: 1/16 inch
Sowing Rate: 2 seeds per plant or 3 ounces per 1,000 square feet
Moisture: Keep moist until germination
Plant Spacing: 18 inches
Terms and conditions, READ THIS PLEASE: Orders over $14 from this ad will be shipped with tracking, Otherwise: Seeds will be shipped economy/standard or first class 2-10 day shipping (NO TRACKING and no planting instructions to keep seed costs to the buyer low), in a ziplock baggie. Our goal is to save you money on quality seeds. We are responsible sellers, and we make sure our buyers are well taken care of. Shipped within 2 business days after payment. We are a seller that caters to experienced gardeners. (germination and plant care information is readily available online, but if you can't find germinating and care instructions, please feel free to message us). Most of our listings include germination instructions, so we do not ship growing instructions. Multiple orders of a single item will be combined into 1 ziplock. We are not responsible for buyer germination success, seeds have been tested. Seed count is approximate, and packaged by weight. Seeds vary in size, weight is exact, and based upon empirical count, quantity is estimated. Liability of seller is limited to the cost of the item(s).
Zellajake Farm and Garden: "Seeds for all your planting needs" since 2013