---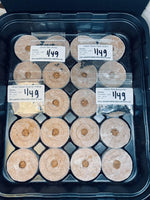 Our Onion Bundle comes with one Greenhouse Kit (tray, dome, 20 jumbo pellets) and four types of onion seeds (25+ seeds each type).
Onions include: Red Grano, Texas Early Grano, Sweet Spanish Yellow, Red Burgundy
Tray and Humidity Dome are reusable AND recyclable.
Optional add-ons include 10 or 20 extra 42mm jumbo fiber grow pellets.
42 mm Jiffy peat pellets are perfect for beginning your seeds with little mess. Simply include water and the pellet will hydrate and extend. The pellet has a slim biodegradable net holding it together. When your plants are fit to be transplanted just plant the whole jiffy pellet in the ground to limit stun and root harm. The pellet is guaranteed natural and has a ph of approximately 5.3