---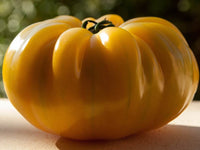 Free Shipping Always!
Item specifics
Seller Notes: Germination test date and results will be on packet.
Country/Region of Manufacture: United States
Sunlight:Full Sun
Brand: zellajake
USDA Hardiness Zone (°F): 4-9
Indeterminate. Heirloom. This Mennonite heirloom has large fruit often weighing over 1 pound! The fruit is yellow with a red center core showing through the skin. It has outstanding flavor and few seeds; great for slicing.
The Old German tomato can be started indoors six to eight weeks before the last frost date. It is an indeterminate tomato plant, and is not heralded as a heavy producer. The large size and excellent taste of this tomato more than makes up for its sometimes lack of production. These tomatoes are generally ready to pick about 75 to 80 days after the seeds germinate.
Firm the seeds into the soil with a piece of wood or flat object; then add a thin layer about ¼ inch of moist soil mix over the seeds and level it and firm again. This will bring seeds into good contact with the soil which is important for germination.
Keep the seed starting mix or soil moist but not wet after sowing; gently water with a fine spray being careful not to wash away seed.
Seeds can be started in bright window or under lights set about 2 inches above the plants.
Maintain soil temperature between 75°F and 85°F; seeds will germinate in 7 to 10 days. To maintain an even soil temperature, use a propagating mat or rubberized "electric blanket" placed under starting pots, flats, or trays.
Place the seed-starting container inside a clear plastic bag or tent or cover the container tightly with a plastic sheet to retain moisture and warmth until the seeds germinate. You can also lay a piece of newspaper on the containers until seedlings emerge. To germinate seeds require warmth and moisture, not light.
Remove the plastic bag or sheet when seeds emerge.
When seedlings emerge, give them full sunshine or place them under grow lights. You can use two 48-inch, 40 watt fluorescent tubes placed a few inches above the seedlings. These can be supplemented with a couple of incandescent bulbs to provide the "red light" that growing plants need. Keep lights on sixteen hours a day when using fluorescent lights.
Set plants an inch or two below the fluorescent tubes and maintain that distance as the plants grow. If plants are too far away they will stretch and develop thin, weak stems. Plants must have lights off at least 8 hours a day to grow strong.
Check seedlings every day as they grow. Be sure to keep grow lights at a constant distance above the seedlings.
Seedlings growing in a window should be turned every day so that they do not develop a permanent lean–heliotropism means growing towards the sun.
Terms and conditions, READ THIS PLEASE: Orders over $14 from this ad will be shipped with tracking, Otherwise: Seeds will be shipped economy/standard or first class 2-10 day shipping (NO TRACKING and no planting instructions to keep seed costs to the buyer low), in a ziplock baggie. Our goal is to save you money on quality seeds. We are responsible sellers, and we make sure our buyers are well taken care of. Shipped within 2 business days after payment. We are a seller that caters to experienced gardeners. (germination and plant care information is readily available online, but if you can't find germinating and care instructions, please feel free to message us). Most of our listings include germination instructions, so we do not ship growing instructions. Multiple orders of a single item will be combined into 1 ziplock. We are not responsible for buyer germination success, seeds have been tested. Seed count is approximate, and packaged by weight. Seeds vary in size, weight is exact, and based upon empirical count, quantity is estimated. Liability of seller is limited to the cost of the item(s).
Zellajake Farm and Garden: "Seeds for all your planting needs" since 2013