---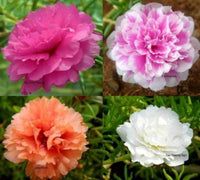 Moss Rose Double Flower Mix Seeds
These SEEDS ARE TINY, over 3,600,000 seeds per pound. Seeds will look like dust in the packet.
Moss rose, or Portulaca grandiflora, is a drought and heat tolerant hardy annual native to hot, arid flatlands in Argentina, southern Brazil, and Uruguay.
Please place all desired items in cart before purchasing. Thanks for shopping with us! J
This succulent plant in the purslane family (Portulacaceae) is cultivated throughout the world as a stunning annual for its bountiful flowers that bloom all summer long with little to no care once germinated. It is related to purslane (we have purslane available, too), and like that plant has escaped to naturalize in some parts of the country on roadsides and in waste places.
Choose a planting location in full sun in a very well drained area. Spade or cultivate the soil when soil temperatures reach 65 degrees. Add 1 to 2 inches of sand if the soil drains poorly or contains too much humus. Rake the area smooth with a garden rake. Tamp the area with a flat board to firm the soil and create a very even surface. Spray with a fine mist sprayer to moisten the soil. Pour moss rose seeds into a container with three to four parts dry sand and mix thoroughly. Moss rose seeds are very fine, making it difficult to sow them thinly without the added sand. Sprinkle the seed-sand mixture thinly over the area. Portulaca seed germinates most reliably when exposed to light, so do not cover seeds.
Monitor the seed bed. Germination takes place in 10 to 14 days when temperatures remain warm enough. If the soil dries out, spray with a fine mist. Do not over-water.
Terms and conditions, READ THIS PLEASE: Orders over $14 from this ad will be shipped with tracking, Otherwise: Seeds will be shipped economy/standard or first class 2-10 day shipping (NO TRACKING and no planting instructions to keep seed costs to the buyer low), in a ziplock baggie. Our goal is to save you money on quality seeds. We are responsible sellers, and we make sure our buyers are well taken care of. Shipped within 2 business days after payment. We are a seller that caters to experienced gardeners. (germination and plant care information is readily available online, but if you can't find germinating and care instructions, please feel free to message us). Most of our listings include germination instructions, so we do not ship growing instructions. Multiple orders of a single item will be combined into 1 ziplock. We are not responsible for buyer germination success, seeds have been tested. Seed count is approximate, and packaged by weight. Seeds vary in size, weight is exact, and based upon empirical count, quantity is estimated. Liability of seller is limited to the cost of the item(s).
Zellajake Farm and Garden: "Seeds for all your planting needs" since 2013