---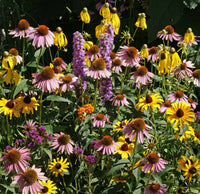 Always Free Shipping!!
Germination test date and results will be on packet.
The best wildflower mix for fresh cut flowers, at fantastic prices! Some varieties in this mix have very tiny seeds, which will always settle to the bottom of the packet, and larger seeds will be on top, which may be misleading. We promise that the number promised is the amount delivered, plus with extras added by weight to make sure.
Best conditions for this wildflower mix exist in the following states: IL, IN, IA, eastern KS, KY, MI, MN, MO, eastern NE, OH, WI
Midwestern wildflower seed mixture is made up of 19 species chosen for their lasting blooms as well s their rugged ability to withstand the extremes of the Midwestern climates. There are approximately 50% annual and 50% perennial wildflowers in this mix. Under normal condtions, this mix may reach a height of 24-30 inches. This wildflower seed mixture includes approximately the following percentages:
16% Baby's Breath, Annual
13% Wallflower, Siberian
8% Cornflower, Blue
8% Coreopsis, Lance Leaved
8% Coneflower, Purple
8% Flax, Blue
8% Lupine, Perennial
4% Pinks, Sweet William
4% Larkspur, Rocket
4% Blanketflower
4% Indian Blanket
3% Evening Primrose, Dwarf
3% Catchfly
2% Poppy, Red Corn
2% Coneflower, Clasping
2% Poppy, Corn
1% Coreopsis, Plains
1% Coneflower, Prairie
1% Black-eyed Susan
1% Aster, New England
Proper site preparation is important for prompt germination of seed and healthy growth of seedlings. Best results will be obtained by planting on cleared ground. Remove existing vegetation to avoid competition from other plants. This may be done by pulling, tilling under, spraying with a general herbicide, or by a combination of these methods, depending upon the size of the area, type and density of vegetation and other factors. Loosen soil by scraping, tilling or scarifying. Tilling should be utilized only when soil is very compacted and further weed control measures can be taken. Specific recommendations are given under the heading, Weed Control.
Method of application depends on the size of the area and the terrain. On small areas, broadcast seeds evenly either by hand or by use of a drop or cyclone spreader. It is helpful to mix a carrier such as clean, dry sand with the seed; sand adds volume and aids in even distribution. We recommend using a ratio of 1 or 2 parts sand to 1 part seed. Rake in lightly, covering seeds to a maximum depth of 2-3 times their thickness. Or drag the area lightly with a piece of chain link fence to mix the seed into the surface of the soil. For seeding large areas, i.e., over one acre, specially designed drills are most effective. Drill to a maximum of 1/4 inch and firm soil with a cultipacker; this maximizes seed/soil contact. Hydroseeders are also effective, especially for steep slopes, rocky terrain and other areas where conditions make it impractical for other methods of seed application.
All seeds, including wildflowers, need ample moisture to germinate and to develop into healthy seedlings. Best results will be obtained by soaking the planted areas thoroughly and maintaining consistent moisture for 4-6 weeks - then gradually reducing waterings. In non-irrigated situations, plant in the spring or before periods of anticipated rainfall. After seedlings are established, watering may be reduced depending on the climate and rainfall. In arid climates or during drought conditions, up to 1/2 inch of supplemental water per week may be required to maintain an optimal display. If weeds are present, remember that they benefit from moisture as much as the wildflowers and may dominate overwatered areas.
Seeds shipped out within 48 hours, but over 90% of orders shipped out within 1 business day.
In eBay, search "zellajake selection" to see huge lists of seeds and other items for sale!
Terms and conditions, READ THIS PLEASE: Orders over $14 from this ad will be shipped with tracking, Otherwise: Seeds will be shipped economy/standard or first class 2-10 day shipping (NO TRACKING and no planting instructions to keep seed costs to the buyer low), in a ziplock baggie. Our goal is to save you money on quality seeds. We are responsible sellers, and we make sure our buyers are well taken care of. Shipped within 2 business days after payment. We are a seller that caters to experienced gardeners. (germination and plant care information is readily available online, but if you can't find germinating and care instructions, please feel free to message us). Most of our listings include germination instructions, so we do not ship growing instructions. Multiple orders of a single item will be combined into 1 ziplock. We are not responsible for buyer germination success, seeds have been tested. Seed count is approximate, and packaged by weight. Seeds vary in size, weight is exact, and based upon empirical count, quantity is estimated. Liability of seller is limited to the cost of the item(s).
Zellajake Farm and Garden: "Seeds for all your planting needs" since 2013