---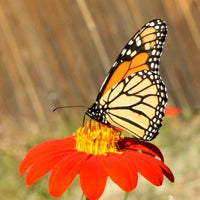 Mexican Sunflower "Torch" seeds
AAS award winner! This relatively drought tolerant plant produces brilliant orange flowers with hues of red that attract butterflies, hummingbirds and pollinators to your garden.
place all desired items in cart before purchasing. Thanks for shopping with us! J
An open pollinated annual that readily reseeds itself, the Mexican sunflower is a spectacular member of the aster family with striking orange blooms on velvety green stems. Blooms resemble asters, daisies and zinnias. In cold hardiness zones 7 and below, seeds should be started indoors about 1 month before last expected frost. Heights can vary greatly, ranging from 3 ft to 7 ft depending on the growing environment, trimming, fertilization and time of year planted. The more flowers that you cut and/or dead-head, the bushier this heavy producer gets, so don't be afraid to cut bouquets for blooms that last through summer and into fall.
Germination: In cold hardiness zones 7 and colder, start seeds indoors 1 month before last expected frost, in warmer zones, plant seeds 1/4" deep and keep soild moist until germination. Germination occurs in 7-14 days. Once seedlings are 3" tall, thin to 3-4 ft apart.
Terms and conditions, READ THIS PLEASE: Orders over $14 from this ad will be shipped with tracking, Otherwise: Seeds will be shipped economy/standard or first class 2-10 day shipping (NO TRACKING and no planting instructions to keep seed costs to the buyer low), in a ziplock baggie. Our goal is to save you money on quality seeds. We are responsible sellers, and we make sure our buyers are well taken care of. Shipped within 2 business days after payment. We are a seller that caters to experienced gardeners. (germination and plant care information is readily available online, but if you can't find germinating and care instructions, please feel free to message us). Most of our listings include germination instructions, so we do not ship growing instructions. Multiple orders of a single item will be combined into 1 ziplock. We are not responsible for buyer germination success, seeds have been tested. Seed count is approximate, and packaged by weight. Seeds vary in size, weight is exact, and based upon empirical count, quantity is estimated. Liability of seller is limited to the cost of the item(s).
Zellajake Farm and Garden: "Seeds for all your planting needs" since 2013